It's no secret that video marketing is the most effective way to reach your target market. And with so many businesses now using online video for marketing, it's easier than ever to get your message out there. But as with any form of marketing, you need to be sure that your video marketing strategy is effective and profitable. Here are some tips to help you create successful videos for your business:
What is B2b Video Marketing?
The purpose of B2b video marketing is to provide businesses with a way to reach a larger audience through video content. This can be done through live or recorded content, as well as social media platforms. In addition, B2b video marketing can also be used to communicate with customers and potential customers.
What are the Types of Content that Can Be Produced with B2b Video Marketing
There are many types of content that can be produced using B2b video marketing, including: commercials, infomercials, webinars, and blogs. Each type of content has its own benefits and drawbacks, so it's important to carefully consider which type of content would best fit your business purposes and target audience.
What are the Benefits of Producing B2b Video Content
Some benefits of producing B2b video content include: getting more views on your videos, increasing brand awareness, building relationships with customers and potential customers, developing new business ideas, and increasing customer conversion rates. Additionally, using effective visuals and sound can help create a memorable experience for viewers and help build trust within your audience.
What are the Tools Available to Help You Produce B2b Video Content
Tools that can be helpful when producing B2b video content include: software such as Adobe Photoshop or Premiere Pro; software such as Hootsuite or Mixpanel; cameras like GoPro or Blackmagic Design; microphones like Microphones Unlimited; and software like Apple iCloud or DropBox for storage and sharing files between devices.
Best B2b Video Marketing Campaigns
1. Taulia:
Taulia created a surprisingly funny video to promote their services for a B2B and stuffy industry like automated invoicing, payment, and discounts management.
They go through a humorous chain of things that transpire when a person refuses to use their services. It is regarded as one of the best videos for B2B marketing.
What distinguishes it?
It parodies Direct TV's "Get rid of cable" commercial, which is already popular and award-winning. This is crucial because using a popular pop culture reference can significantly boost your video's appeal.
It examines their work from a very self-aware standpoint, making fun of how hilariously quickly the events escalate.
2. Method CRM:
The Method CRM how-to video walks us through adding a customer care case to their platform rather than giving us a typical demo with a dry product description.
What distinguishes it?
Errol, the animated and enthusiastic host, keeps us interested with his upbeat demeanor, his enthusiasm, and charm.
The main point that would matter to customers is highlighted in the video in a positive light without being forced down our throats.
3. Slack: So Yeah, We Tried Slack…
In this case study video, the b2b video production company Sandwich Video actually uses the tool they were promoting and documents the results.
It is a really funny video, and the fun factor keeps you watching, which is what makes it special.
The tool is presented in a way that clearly highlights its features and advantages, and you can see how quickly they adopted it into their daily work routine.
This team's ability to adapt to slack in such a way that we can picture using it ourselves is truly remarkable.
4. Eloqua:
Their video series had a dungeons and dragons-like aesthetic and dealt with the history of marketing campaigns as well as the challenges of developing them.
What distinguishes it?
A compelling narrator
Cute narratives reinforced by amusing visuals
Funny copy that emphasizes customers' problems
In order to keep viewers' interest and generate buzz, they divided the content into a series rather than attempting to fit everything into one video.
5. Adobe – Click, Baby, Click:
This advertisement makes fun of the marketing analytics that many businesses overlook. The advertisement flips the conventional request to "get us more clicks" on its head.
What distinguishes it?
Buildup and punch line: When we observe something ostensibly interesting occur quickly, we are captivated right away. When the punchline finally appears, we are already invested enough to enjoy it for what it is.
This popular B2B video has the ideal pacing and music.
We can relate to this joke easily because the punch line was unexpected and the context was typical.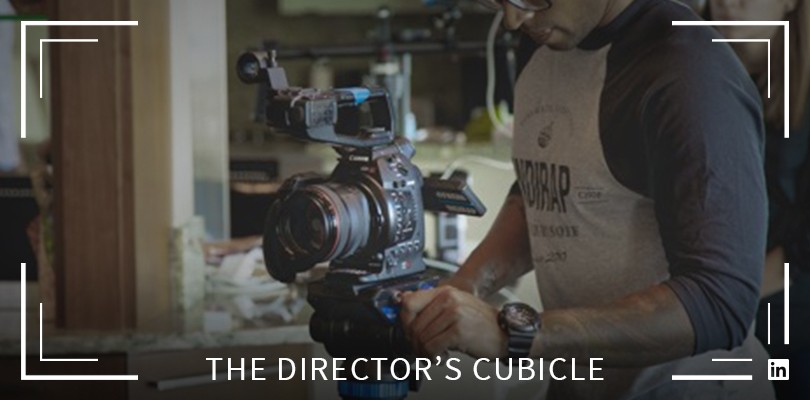 6. Dissolve: This is a Generic Brand Video
They performed what is known as a self-troll using Kendra Eash's poem "This Is a Generic Brand Video."
They used their stock footage to provide the poem's imagery, and by doing so, they pushed the entire industry to do better.
What distinguishes it?
The obvious self-deprecating sarcasm that is directed at their brand partners and users challenges them to produce better videos using their stock footage.
This video is incredibly entertaining and hilarious at the same time.
7. Salesforce:
The case study video model is reversed in this video. In spite of the fact that the video brilliantly showcases the power of Salesforce's products, it hardly makes any mention of them.
What distinguishes it?
The client, Barclays, is the main subject of the script. This video documents their struggle, their needs, the solution they needed, what worked and what didn't.
By concentrating so well on the needs of the client, Salesforce powerfully conveys what they do. This viral B2B video content marketing campaign is ideal because it feels more like a personal recommendation than a sales pitch.
8. Sprint Business:
With Sprint Business, Open a New Office
In keeping with the service it is promoting, this video is a perfect illustration of the 'one thing, done right' philosophy.
What distinguishes it?
Simple imagery, bright colors, and effective pain point identification make you shudder at the thought of moving that inefficiently.
You can easily picture the discomfort of dealing with suppliers and the inefficiency of the system from the way this video is shot. We are all hoping for Sprint's product to be the solution, so when it is finally mentioned, we are relieved by how reassuring and simple it sounds.
9. Hubspot – What is Hubspot?
This video serves as a great illustration of how to produce a B2B video. While discussing why you need Hubspot, it successfully explains what it does in detail.
What distinguishes it?
It immediately grabs your attention because it starts with customer pain points and the technological areas it targets.
The brief and simple explanation provides a point-by-point overview of the software without losing focus on you, the client.
10. Volvo Trucks: The Epic Split
One of the best b2b video examples available is this one. This video, which is a part of the live-test series, accentuates Jean-Claude Van Damme's inherent badassery without acting it up.
The entire commercial is a sight to behold, and it will tickle you in all the right places while elegantly showcasing Volvo's features.
Why is it the Best B2B Video Content?
A split is performed by Jean-Claude Van Damme while Volvo trucks are moving backward. He does it, looking resolute and determined, while standing on their wing mirrors.
His ability to accomplish things with his body, which is a work of art, perfectly embodies Volvo's philosophy.
This video serves as a showcase for the special kind of showmanship that emerges when large, well-built trucks, Jean-Claude Van Damme, Enya, sunsets, and exquisite direction come together.
B2b Video Content Ideas
Video or written testimonials from customers
Your customers can provide some of the best marketing. Social proof enters the picture with customer stories and video testimonials, which is psychologically proven to persuade people to make a purchase.
Nearly 50% of customers believe that "people like me" are the most reliable sources of product information. Fortunately, customer videos feature testimonials and real-life experiences from viewers just like them, which can help you convert them.
Videos of product reviews
Videos of product reviews are a simple way to demonstrate to potential customers what you have to offer and why it is important to them. Just keep in mind that reviews are more effective when combined with B2B influencers, content creators, and community members (if you have one). These individuals can provide their own commentary and additional context.
You could, for instance, work with creators in your industry and ask them to make a video demonstrating how they use your tool in their workflow. Alternately, request that they inform their audience of the numerous features and advantages of your product.
Similar to that, give an influencer your tool for free in exchange for a sincere video review or a live Story video on social media.
Such a B2B video type not only increases your brand awareness, but also makes you more visible to new audiences.
commercial movies
These videos come in a variety of sizes and formats, from a new feature reveal promo video to a teaser video for the event you're hosting.
Consider SEMrush as an example. To entice marketers to participate in their weekly Twitter chat, they used videos.
In a similar vein, use video to generate excitement for a forthcoming ebook, in-depth blog post, or survey report.
Webinars
Webinars are a fantastic way to attract new customers, highlight a new product, or establish yourself as a thought leader in a particular field. 54 percent of B2B professionals attend weekly webinars. So investing in the creation of webinars is a good way to produce episodic or seasonal video content.
But keep in mind that the following are the essentials for webinar success:
hosting them on subjects that are incredibly relevant to your audience
putting in place a distribution and audience engagement strategy
Virtual occasions
Even though covid-19 and its variants have altered reality, the popularity of virtual events has not changed.
If anything, 40% of the events survey participants intend to attend in 2022 are anticipated to be virtual, according to Statista's 2021 survey. Another 35% report that they would go to hybrid events. Are you concerned that it will be difficult to organize successful virtual events? Hosting virtual events online is simple with the right virtual event platform. Here is your step-by-step manual for organizing and hosting online events.
Videos for SEO
With video that is optimized for search, you can strengthen your brand's SEO strategy.
Create videos that help explain key concepts related to your product, industry, or topics that are significant to your audience by taking into account the types of educational topics that are popular with your audience.
Want another suggestion? To liven up the educational content you're producing and reach the audiences of the experts as well, start an expert interview series.
Bonus: Use some video SEO best practices, such as chaptering your videos and including your target keywords in the title, meta description, and transcript, if you want to rank on the SERP.
Videos as ads
The best way to engage your audience is with video ads. Use Twitter video ads as an illustration. Videos are listed as their "fastest-growing advertising tool" by the Blue Bird Network.
With video tweets receiving 10x more engagement than tweets without video, these not only garner attention but also inspire action. What's best? You don't need to invest a lot of money in making video ads. To create animated ads, you can try Vimeo Create, and you're good to go.
Product display
Showing your product in use is the best way to market it, and video can help you do this the most effectively.
You can always make a complete product demo to showcase on your home page or distribute to your sales team as marketing material.
Video on demand and timeless content
Avoid having your live streaming or virtual events land on the threshing floor. Use previously published material in your on-demand webinar strategy.
Have inquiries that members of your target market frequently ask about your business or sector? Respond to them in video. But be sure to widely disseminate this timeless content.
Live broadcasts
Live videos, such as social media live streaming or live webinars, can quickly create a tight-knit community.
Brands using live streaming receive 7 times as many reactions and 24 times as many comments on LinkedIn alone as those sharing pre-published videos.
However, you don't need to have trouble deciding which social media platforms to use for live streaming. Instead, use Vimeo to simulcast (technically: live stream on multiple channels at once).
Onboarding new clients
97% of businesses are aware of how crucial user onboarding is to the development of a product. Fortunately, quick, to-the-point videos can simplify onboarding by assisting new users at each stage.
In order to keep and provide more value to devoted users, you can actually make videos that demonstrate how to use advanced features.
How to Startproducing B2b Video Content.
Creating and producing quality, engaging B2b video content is a crucial part of any business's marketing strategy. But there are a number of factors to consider when crafting your content, including the target audience, topic area, and tone.
To create videos that will resonate with your audience, it's important to focus on topics that your viewers care about. For example, if you want to promote a product or service, focus on topics that people would want to learn more about. Alternatively, if you want to reach a specific demographic group, focus on topics that appeal to them.
In order to monetize your content, it's also important to consider how you will use it in the future. For example, if you produce videos for marketing purposes only, you won't be able to charge money forviewing them online ordownloading them offline. However, if you plan on using your videos in print or television ads or even as course material for business classes (or even as an entry level into your industry), then you can start charging for access and/or download privileges.
Finally, make sure that your videos are designed thoughtfully and attention-grabbing enough so that they can stand out from the competition. By following these tips and creating high-quality content that resonates with your viewers, you'll be on your way to turning profitable B2b video into a successful career!
How to Use B2b Video Marketing to Increase Your Position in the Market.
One of the most important ways to increase your position in the market for your business is through use of social media. By using social media to share your videos and create engaged content, you can reach a larger audience and increase your visibility. Additionally, using video marketing tools such as Google AdWords or Adobe Photoshop can help you target specific demographics and interests, giving you an edge over other businesses.
Use Video Marketing Tools to Increase Your Position in the Market
By optimizing your videos for SEO, you can make them more visible on search engines and show up higher on relevant pages when searched for. You can also use video marketing tools to communicate with customers on a personal level, increasing conversions and sales. By using these tools, you can grow your business faster than ever before!
Conclusion
B2b Video Marketing can play an important role in increasing sales andposition in the market. By using the right content strategy and marketing tools, you can reach a wider audience andboost sales. Additionally, it's important to use social media to increase your reach and optimize your videos for SEO. In order to take your business to the next level, make sure to focus on these key areas!