As a business owner, you may be looking for ways to automate your business processes. But before you go out and purchase any automation software, it's important to understand the different types of automation available. In this guide, we will provide a comprehensive overview of the best professional services automation software for your business – a guide that can help save time and money!
What is Professional Services Automation Software?
The majority or all of the back-office and front-office tasks are managed by professional services companies using professional services automation (PSA) software. PSA systems are used to keep track of operations, associated expenses, and the income they produce. These items are used by professionals in the professional services sector such as consultants, attorneys, marketing account managers, and others who work on a client-project basis. To increase the effectiveness, productivity, and profitability of the project operations already in place, PSA software provides insight into the business processes of project and portfolio management. All divisions of a professional services firm, from sales and marketing to accounting, as well as project managers, can use this kind of software.
To create a more complete solution, PSA systems can be integrated with accounting, CRM, and payroll software. Similar to ERP systems, PSA software is designed specifically for the professional services sector.
A product must meet the following criteria in order to be considered for the Professional Services Automation category:
Organize communications, sales opportunities, and customer profiles.
Add components for service level agreements and contract management (SLA)
offer professional services project and portfolio management
provide accounting features, or incorporate accounting software
Keep track of project and portfolio costs, including labor and other costs
Keeping track of and allocating resources according to availability and need
Recognize income by undertaking, portfolio, or business division
Track the profitability, risk, and performance of your projects and portfolios.
Best Professional Services Automation Software
For organizations that provide consulting, staffing, recruiting, and professional services, Conrep's PSA software offers a complete solution. Conrep enhances workflow, tracking, and controlling in your company. Its simple implementation and web-managed solution fosters individual accountability and productivity while also improving organizational efficiency and resource utilization.
A SaaS tool called CV Partner automates the management of CVs, resumes, and case studies for bids and proposals. You can customize your company's CVs and credentials for tenders, bids, or RFPs using CV Partner. Additionally, the tool enables simple exporting of Case Studies and CVs to Word, PowerPoint, and PDF, with client- and bid-specific templates. Leading brands in the professional services sector use CV Partner, and users report spending 50% less time updating CVs and Case Studies.
The simplest method for managing all of your team's work is Asana. Discover why Asana has 9,000+ users who give it 4.5 out of 5 stars.

In one location, you can schedule jobs, manage teams, keep track of time, and monitor projects.
Starting at $7.50 per month, a simple invoicing and accounting solution (first 4 mths). Join the 24 million users of FreshBooks already.
Utilize the open platform at Monday.com to design personalized and automated workflows that will streamline your team's operations.
An online work execution platform called Smartsheet enables businesses of all sizes to plan, manage, automate, and report on their work.
Top 10 Psa Software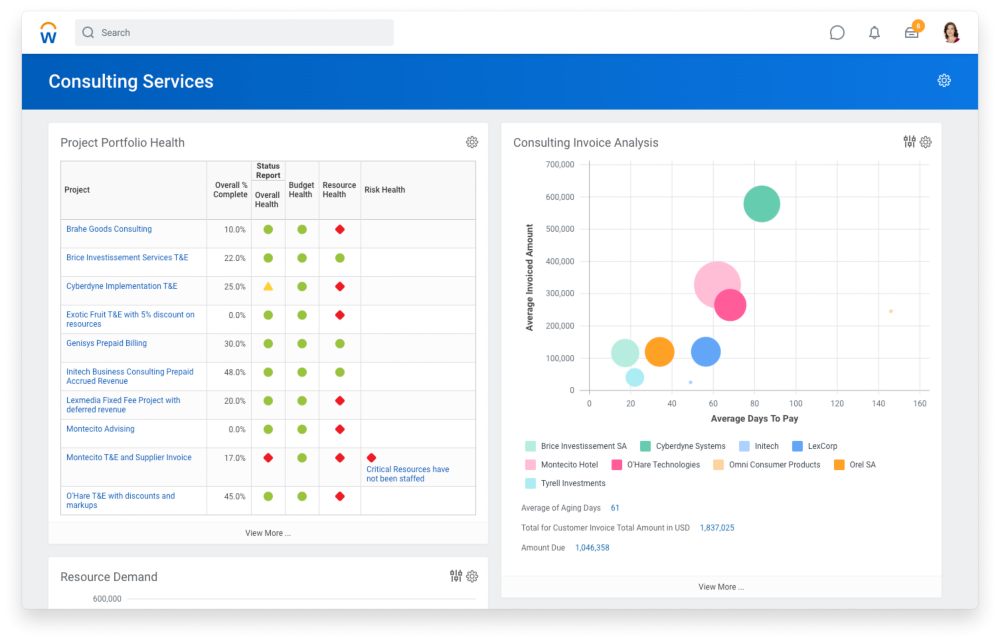 HaloPSA
A solution geared toward MSPs and service providers is called HaloPSA. Users have access to robust out-of-the-box functionality with HaloPSA. You can get features like time tracking and billing, sophisticated reporting, asset management, remote access, seamless integrations, automation tools, and more with an integrated PSA platform.
HaloPSA is the preferred PSA solution for businesses like ATOS, NEC, and Gijima because it is a fully customizable managed IT services system.
Microsoft CSP, Splunk, N-Able N-Central/RMM, Xero, Teams, Slack, Zapier, and TeamViewer are just a few of the well-known tools that HaloPSA integrates with. Visit their website to see a complete list of integrations.
HaloPSA costs $29 per user per month.
2. Rocketlane
Rocketlane is a professional service application created specifically to manage projects with clients. To assist teams in achieving project goals, accelerating time to value, and providing a 5-star customer experience, it combines project management, document collaboration, and communication in a singular way.
In addition to a customer portal for stakeholder and client views, Rocketlane provides private and shared views for project plans and documents. In order to create your best practices only once and use them consistently across projects, you can codify them using project and document templates.
You can use Rocketlane to keep your customers informed and hold them responsible with reminders, notifications, and emails that contain concrete instructions. Together, you can work on brand-new documents or embed pre-existing ones, collaborate synchronously on them, and have Slack-like chat within Rocketlane.
Rocketlane offers a free 14-day trial and prices start at $19 per user per month.
3. Mavenlink by Kantata
Although Mavenlink is a comprehensive PSA tool, project management and resource management are among its main functionalities. The software's built-in Gantt tool can be used for efficient project management. You can drag and drop tasks onto the Gantt charts to view their progress over predetermined time periods. The charts also enable you to create "dependencies," which facilitates managing the connections between tasks. Because the dates of "dependent" tasks change as the dates of "predecessor" tasks change, this enables you to manage your project timeline effectively.
There are four additional sub-features or sub-stages under the resource allocation management feature of Mavenlink. Estimating, planning, carrying out, analyzing, and optimizing are these. You can use project templates for estimation to create estimates of your resource requirements (including hours and budgets). To easily plan the distribution of tasks, you can view your active projects and your resource pool in planning. By taking a look at your resource schedule, the project's timeline is automatically adjusted in Executing, allowing you to quickly make the necessary changes. Last but not least, Analyzing & Optimizing allows you to view resource trends, which makes predicting your resource requirements simpler than usual.
Mavenlink provides a free demo and a 10-day trial. On request, they provide their pricing, which is tailored to the needs of individual businesses.
4. Kimble
Kimble is PSA software that can be found in AppExchange, Salesforce's app store. For those who already use Salesforce, Kimble may be the perfect software because it integrates with Salesforce. For a more efficient workflow, digital project managers who use Salesforce can access Kimble via a Salesforce tab. Due to the fact that you don't require a different app to manage your projects, Salesforce integration can also reduce clutter.
Consider yourself a digital project manager in charge of your own group. If so, you might appreciate Kimble's extensive selection of resource scheduling tools because they let you choose which resources you'll use to meet business requirements. Smart Insights, another feature of Kimble, alerts users to problems that need to be fixed right away so they can focus on more important issues.
The cost of Kimble is determined by request, so no information on the starting price is available. They also don't offer free trials.
5. Deltek
Although it was designed for agencies, Deltek's Workbook has uses for digital project managers as well. For greater flexibility in task management, Workbook has management features like Kanban boards and calendar integration.
Deltek's Workbook also promotes client collaboration, which helps you and your client develop a stronger bond. The client portal for Workbook encourages openness and enables customers to post job requests and track the status of ongoing projects. In order to prevent losing important documents or other files, Workbook's Client Portal gives DPMs a way to centralize client communications and documents within a specific job. With this feature, you can work more quickly and respond to clients more quickly because you will always know where to look for a specific file.
With the option to add more features for a higher monthly fee, Deltek Workbook pricing starts at $20 per user per month. Customers can also sign up for a free trial.
6. Workfront
You can manage workflow, projects, and portfolio using Workfront, an all-purpose PSA tool. You can declutter your workstation by getting rid of unnecessary programs with the aid of Workfront, which can help you manage tasks and resources in a single piece of software. Because Workfront has an integration platform that allows for free collaboration with other platforms like Slack, Jira, or Adobe, you can boost team productivity and efficiency.
Workfront can help you manage those tasks using just one app if you manage multiple projects at once. You can use Workfront to create dashboards that you can customize to see the status of projects, keeping you informed at all times. Workfront can also be used to create workspaces tailored to each team member so that you can easily understand their responsibilities and produce the best results.
Pricing for Workfront is specific to a company's requirements and is only made available upon request. There is no free trial available for Workfront.
7. Upland
Using proposal automation and knowledge management, Upland, a cloud-based enterprise work management tool, can supplement services automation. If your team is large (between 51 and 1000+ members), Upland makes it simpler for everyone to access information by giving your team access to a single location where documents can be gathered, stored, and shared. This central location is a great tool for keeping records and can prevent you from misplacing documents.
You can organize all the resources necessary to finish a task successfully using Upland. The software's Reports/Dashboard feature enables you to monitor the status of several ongoing tasks in real-time so that you can make the necessary adjustments to guarantee successful outcomes. In order to track your team's productivity, you can also use Upland to track how much time each member of your team spends on tasks.
Upland PSA offers a free trial upon request and prices start at $20 per user per month.
8. OpenAir
An excellent cloud solution for DPMs is Netsuite OpenAir, which is designed for service businesses with at least 1,500 clients. Because it offers real-time and data-driven insights, many reviewers think Netsuite Openair is best for small and mid-sized businesses because it can boost project profitability.
One of OpenAir's strongest points is its project management feature, which enables you to assign resources, monitor project progress, and complete tasks with ease. You can use OpenAir's time and expense tracker to make sure you won't go over budget or miss a project deadline if you have a tight budget. Additionally, you can use OpenAir to create summaries and charts that will make it simple for your client to understand the outcomes and project completion.
The initial cost of OpenAir is $399 per user per month. There is a product demo available for potential users, but there is no free trial.
9. Projector
Users can easily access Projector through a browser as long as they have an internet connection. It is a cloud-based PSA that serves as an employee and management portal. Being browser-based has the benefit of allowing users to access Projector from other computer terminals and mobile devices without having to install any software.
By providing team members with a workspace that is only accessible to designated project members, projector PSA facilitates collaboration between team members. Project managers who are working on sensitive projects can benefit from this feature because it can limit access to sensitive data by people who are not on the team. Additionally, Projector has a Task-Scheduling feature that streamlines assigning particular duties and lets the project manager monitor development.
The starting monthly subscription for Projector PSA is $15 per user. Projector users can request a free 30-day trial.
10. Changepoint
Changepoint is available both locally and online. It can be integrated into CRM and ERP systems, which can aid a business in managing the customer lifecycle successfully. Changepoint's main function is to help users manage demand, forecast finances, and conduct profitability analysis so that businesses can better serve their customers. Changepoint includes built-in mobile functionality that enables users to access and use the program from any location.
The software enables you to match projects based on the team members' skills and capabilities, which can assist digital project managers with resource management. A digital project manager can also use Changepoint to monitor a project's financial health in order to keep it on track and within budget.
For Changepoint, there are, regrettably, no pricing details. You can get in touch with the vendor to ask for a quote.
Psa Software for Small Business
Automation can help small businesses by freeing up time and increasing efficiency. Automation can be used in a variety of ways, from customer service to accounting.
The Top Automation Software Programs for Small Businesses
Here are the top 10 automation programs for small businesses:
1. Salesforce – This program is great for managing sales data and tracking contact information. It's also free to use.
2. Canva – With Canva, you can easily create visuals of anything, including reports, marketing materials, and more.
3. HubSpot – One of the most popular automation programs, HubSpot offers a wide range of features and is free to use.
4. Zenefits – WithZenefits, business owners can manage their workers and finances remotely.
5. PowerPivot – This program helps managers track expenses and performance data on a large scale.
6. Zapier – With Zapier, business owners can connect different software applications together in order to make tasks easier or faster (e.g., adding contacts in Excel).
7. Workday – Workday is an automation program designed specifically for small businesses with limited resources or space available on their computer desktops (it's free to use).
8. KeePass – KeePass is a password manager that lets you store passwords offline so they're safe if you lose your phone or computer (free to use).
9. Groove Music Player – Groove Music Player helps music lovers keep track of their favorite songs with easy drag-and-drop capabilities (free to download).
10. Sheets – Sheets makes it easy for business owners to store data such as invoices, receipts, and other financial documents in one place (free to download).
Best Practices for Using Professional Services Automation Software.
One of the most important aspects of running a business is having good customer relations. By using professional services automation software to improve your customer relationships, you can help your business stay afloat. In addition, by using service automation software to improve employee relationships, you can help employees feel more satisfied and fulfilled. Finally, by using professional services automation software to improve operations, you can improve efficiency and bottom line.
Use Professional Services Automation Software to Improve Your Employee Relationships
In order for your business to succeed, it's important that your employees feel appreciated and supported. By using professional services automation software to improve employee relationships, you can create a culture where employees are proud to work for you. Additionally, by using service automation software to improve employee morale, you can increase productivity and decrease costs.
Use Professional Services Automation Software to Improve Your Operations
When it comes to running a business, efficiency is key – especially when it comes to finances and operations. By using professional services automation software to improve your operation, you can save time and money while reducing stress levels in the workplace. Additionally, by using service automation software in order to automate processes and streamline workflow, you can ensure that your business runs smoothly at all times – ensuring a successful financial future!
Conclusion
Best Practices for Using Professional Services Automation Software can help improve your business efficiency, customer relationships, and bottom line. By using the right software to manage your time, streamline your operations, and improve your bottom line, you can achieve success in this field.