Business is increasingly moving online. Social Media give business owners the opportunity to share the same news and events with a wider audience, build brand awareness, promote products or services, and drive clients to their sites. This guide will outline the most common social media marketing tools available from Facebook, Twitter, Instagram and Pinterest. Please note that there are a variety of platforms that exist, however this piece has been created to focus on the core platforms most people will be using at some stage.
  Below are some common social media marketing tools, each with a description. The purpose of each tool is the following: Video Marketing Tools are used to stimulate sales Video, Pictures, Video Blogs
Senders
Senders is like having caller ID for email. Senders pulls information based on a sender's email account and lets you know all about him or her.
Senders will give you the person's name, title, and bio, along with links to his or her Twitter, LinkedIn, and Facebook accounts. It shares last tweets, their Twitter follower count, and links to the Google search for that person.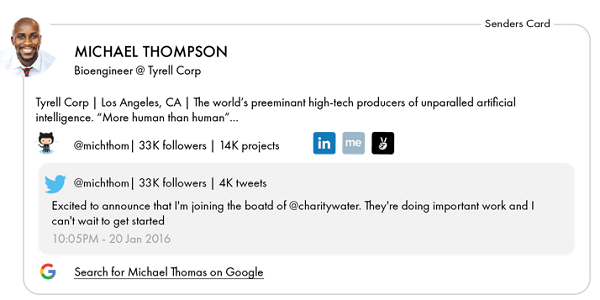 You can even go into Senders with your own account and edit your information.
Senders works for most email accounts. All you need to do is give Senders permission to see your account and they don't store, share, or read any of the content of the emails. Senders simply scans and searches the web for people's contact info.
For now, Senders is free.
OneTab
OneTab is a cool app that helps you manage the overload of tabs on your browser. For instance, you have a bunch of tabs open and you realize your computer is bogging down; however, you don't want to lose all of those tabs. That's where OneTab comes in.
Install the Google Chrome or Firefox extension and when you click it, it sends all of your tabs into one tab as a list of clickable links.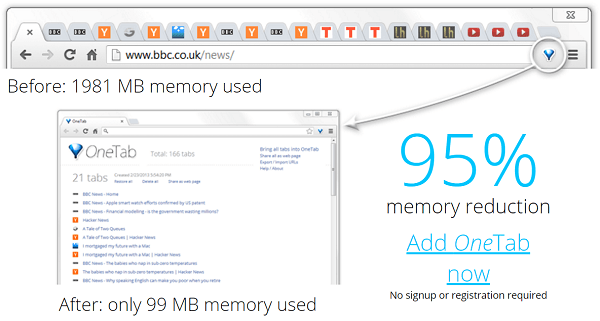 Let's say you have six or seven news sites that you check every morning. Instead of leaving them open in your browser all day long and slowing your computer, you can create a OneTab list and they open in one shot.
Or if you're checking multiple tabs for a project and then get interrupted, you can merge those tabs, put them away, and go back and look at them later. You can focus on what needs to be done in the moment and reload those tabs at any time.
Buzzsumo
Research is a crucial part of marketing. If you want to do well and leave your competitors in the dust, you need to understand what they're doing and if what you're doing is working or not.
Buzzsumo is a research tool which tells you how your content is doing and who's spreading the word.
Sometimes when you sit down to create content, you're on fire. Other times it's like pulling teeth and you're just grateful to have met a deadline. It's impossible to guarantee success, but a tool like Buzzsumo can help you increase the odds.
One of the most powerful research tools on the market, the functionality includes:
Find content that's most shared on social media channels – you can enter your own or someone else's domain and see what's been shared socially.
Find influencers related to particular topics.
Get alerts based on keywords, brand name, links, author name, or domain.
Track competitors and do an analysis based on their content.
Use it to research keywords and trending topics your audience is interested in. You can use it to find interesting new posts to share or to search for content ideas based on what's performing well.
And, if you've got some cash to splash, Buzzsumo Pro is a powerhouse for competitor research.
Missinglttr
Social media promotion is vital to success in the online world, but the act of scheduling posts may not be the reason you bounce of bed every morning. Even if you use a tool to help you speed up the process of blasting all your channels at once, you still need to manually input the text and images for each post. Rinse and repeat to re-promote the posts.
Missinglettr helps you automate the process of creating social content by scraping your blog post content and creating a year's worth of social content for you: nine individual posts dripped out to your social channels over a year.
This means you can focus on writing long-form blog posts while someone else takes care of the creative side of social promotion and the scheduling of posts, so there'll be one less thing on your to-do list.
With templates for content creation, scheduling, and facilitating client approvals, plus a custom URL shortener to export campaign assets so they can be used in other marketing initiatives, Missinglettr has some great features that'll lighten your load. You even get a weekly report so you're on top of your marketing performance.
 Inflact
https://461f2f960aa8339e56f1a77d56db2b65.safeframe.googlesyndication.com/safeframe/1-0-38/html/container.htmlInflact is a tried-and-tested social media marketing tool, mainly for Instagram promotion. It is an all-in-one toolkit for influencers, brands, and digital marketers.
Using this tool, you can grow your followers, curate content, and analyze your competitors.
Key Features
Using the Instagram Direct Module, you can set auto-replies based on trigger words, categorize clients by labels, and manage bulk messaging.
Inflact's scheduling module enables you to schedule feed posts, images, Carousels, and Stories.
Their hashtag generator contains over 12 million hashtags that are regularly updated.
Using their downloading feature, you can save all types of content from Instagram, Facebook, and Twitter videos for re-use.
Through their Instagram Search option, you can find influencers, competitors, and partners across different niches.
Profile Analyzer is a free service that lets you get insights about any public account on Instagram, and monitor their activity and top content.
Note: Want to try Inflact? Use the coupon code "SHANEBARKER" to get a 10% discount on all their paid tools.
Conclusion
No matter what you think of them, social networking sites have become a ubiquitous part of the online experience. Facebook alone claims more than a billion users.