In order to successfully expand your reach across multiple social media sites, it's important for businesses to know the strengths and weaknesses of each social media management tool they're considering. This review shows a detailed comparison of 5 of the most popular social media management tools, taking into account the differences in price, number of features, and user-friendliness.
Social Media Management Tools are an important part of modern-day business. They help companies efficiently advertise their products, increase efficiency, maximize profits, and reach an influential audience. Although there are many tools with varying features, each tool possesses its own strengths that may better fit the needs of certain businesses. The comparison table below has 8 top Social Media Management Tools listed with their respective features to help you select the one that is best for your company.
eclincher
Platforms: Facebook, Facebook Messenger, Instagram, Instagram Stories, Twitter, Google My Business, LinkedIn, YouTube, Pinterest, TikTok
G2 Ranking: 4.7 out of 5
eclincher might just be the best kept secret in social media due to their grassroots 'word of mouth' content marketing efforts in the past. ec, as brand advocates tote, has been reviewed as "the swiss-army knife of social media".
why eclincher?
They are pushing out extremely more value to marketing agencies and larger business teams, than their competitors.
You might expect that customer service is a standard in general. But, in the SaaS world eclincher's support team really takes the clients' expectation of service seriously, and not just because they are 24/7.
You'll capture some serious social media ROI using eclincher's social media management tool. Centered around marketing automations, eclincher helps social media managers save time using a single dashboard with this digital marketing platform, automate mundane marketing tasks with bulk scheduling options, rss feeds, queues, etc.
Every feature or capability seems to have the goal of productivity in mind to the end user.
An all-in-one social media management tool and consistently expanding platform, eclincher is packed with all the value every social media team needs (and wants too).
Scalable from the professional solopreneur, SMBs (Small & Medium-Sized businesses), Enterprise, to Agencies with large teams who need that extra workflow and internal/external team collaboration.
The huge benefits you gain working with a well-rounded solution helps you quantify your return, increase productivity, save precious time, and gain back insight for what is working and what isn't.
It stands to note their customer support is consistently and notably awarded best in class from sites like G2Crowd, Capterra, GetApp, and the like.

This top rated powerful social media management tool, or should we say a platform, has everything you need to execute your social media marketing strategy.
There are loads of value in the features and capabilities offered, such as a comprehensive content publisher, savvy drag and drop visual calendar, campaign tracking, competitor analysis, and omnichannel tailored social media post editing.
If Instagram scheduling is top of mind you'll love the custom Instagram grid planning, and being able to schedule Instagram stories and carousels with push notification.
eclincher has an intuitive scheduler toting auto posting with smart queues, a very smart inbox or social CRM so you never miss a review, message, or engagement, integration of RSS feeds, suggested content plus curation, keywords and hashtags monitoring, social media analytics reporting including Google Analytics, URL shorteners, campaign tracking and more.
This social marketing tool really has it all to keep campaigns innovative and organized catering to multiple social media account(s).
Did we mention they already partner with a wide range of companies like Canva, wave.video, Zendesk, Bitly, Feedly, Unsplash and add more integrations constantly? Slack and TikTok for Business are coming in the 1st quarter of 2021.
If they don't have a feature or integration you need, your odds are good they probably will soon.
Remarkably, two of the most amazing benefits of working with eclincher is their agile team atmosphere and their ability to be nimble with the ongoing addition to features benefiting new and current clients without costs pushed onto users.
The real value of eclincher evolves when you need to scale. If you have many brands to manage or a lot of franchise locations, that cost adds up in thousands.
Comparing against some of the social media marketing giants like Hubspot, Sprout Social, or Sprinklr eclincher is the best choice for scaling large accounts with multiple locations or brands.
You won't have to lose capabilities with regard to visual marketing either.
In other words, if the feature doesn't exist, suggest it with their live 24/7 live chat offering and if it is scalable and beneficial for companies like you, they will implement that suggestion. How cool is that?
They have recently updated their UI in July 2019 to be more user friendly and users are raving! There are a lot of features to choose from, so make sure to get a live FREE personal demo.
Pricing starts from $59 per month up to $219 for more advanced plans. Pricing supports up to 40 social media profiles, but some clients have hundreds of profiles and require a more custom social media plan.
Customized add-ons such as Reputation are also available for larger teams so be sure to check out their paid plans. LIVE demos are available with their team and currently they offer a 14-day FREE trial with no credit card required.
(Chrome extension for browser extensions; app available for iOS and Android)
If you are a current client you may also benefit from their referral program. 
Sendible
The #1 social media management tool for agencies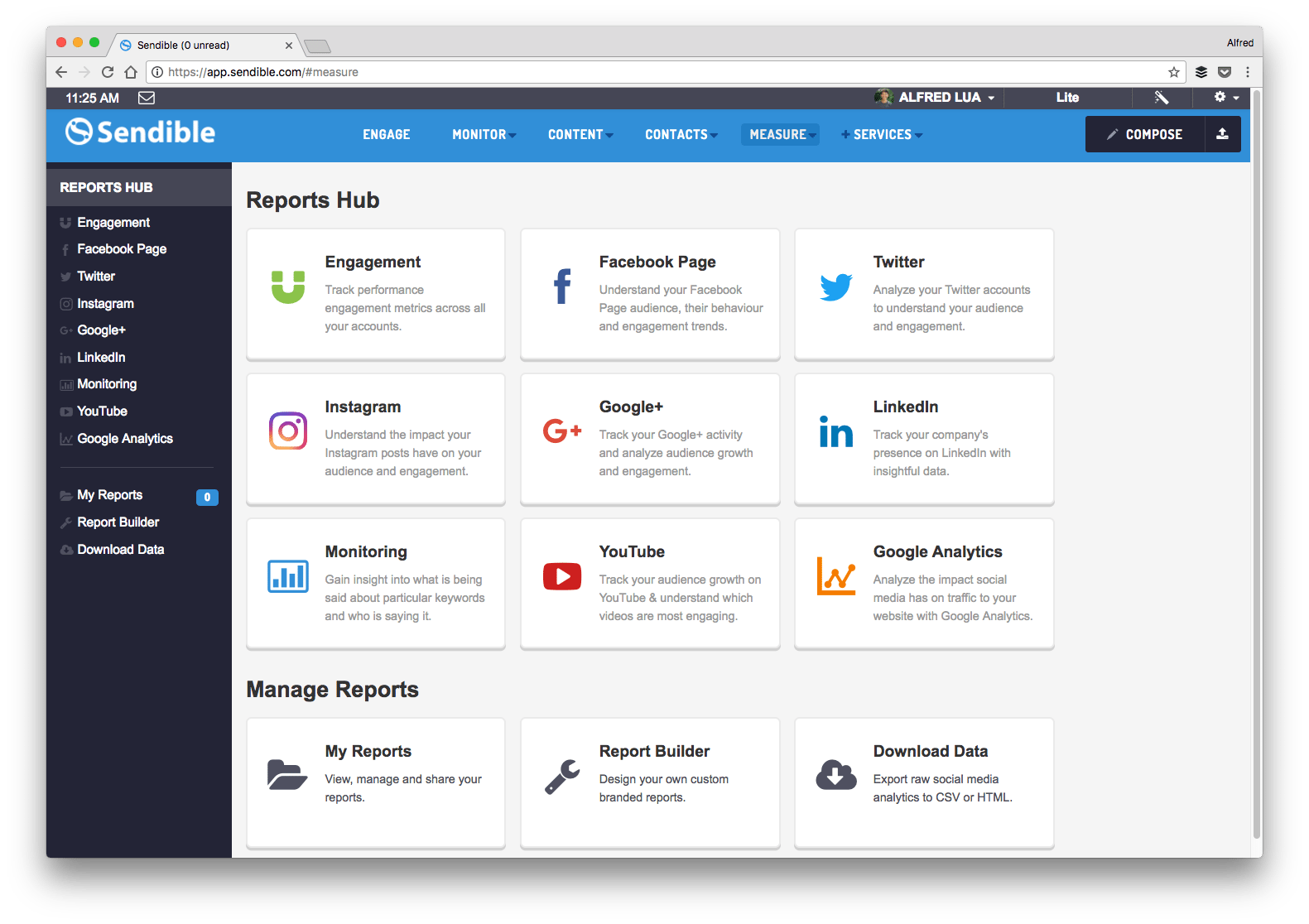 Prices: $29, $99, $199, $299 per month, and enterprise pricing (with a 30-day free trial)
Description: Sendible is a social media management tool built specifically for agencies with several clients. On top of most features that social media management tools provide, Sendible allows you to customize your dashboard according to your branding to attract new clients.
Unique value: Sendible has some impressive integrations such as the Canva graphics editor, royalty-free image search, and YouTube search. It also provides some automation for those who want to save time on repetitive tasks.
Agorapulse
Agorapulse is an easy way to manage social networks. The interface is clean and intuitive using mostly drag and drop functionality. It also has built-in CRM functions.
The core features of Agorapulse cover most social media manager functions. It lets you engage with fans across many social accounts. You can do decent content curation and plan your social media posts on a content calendar. The CRM tools and social listening give you deeper understanding of your customers. Agorapulser also makes neat reports with just one click.
Agorapulse is best for:
Small teams
Startups
Small businesses
Marketing tools
Reporting
Social media strategy
Conclusion
When you are running a business, social media is one of the best ways to promote it. You can get your content in front of millions of people, and it is relatively inexpensive. However, you could spend all day posting on each social media site over and over, or you could get a management tool that does it for you.