A Content Creation Social Media Business is a social media marketing agency focused on digital brand and content building solutions. The business has proven experience in the online marketing industry, having long-standing partnerships with multiple social media platforms and services. Our company has developed customized marketing campaigns for social media pages of leading brands, celebrities, business executives and key public figures. We regularly conduct research of the digital trends to discover new opportunities and partners. We are proud to share that we are ranked as one of the top agencies by our clients by creating working strategies that overcome various challenges to help them achieve business success.
Let's cut through the fluff. Write and publish posts on topics you actually know about. Get a blog or website, create engaging content about THEM (your website's visitors) and share it to your social media pages. Use Facebook groups and Instagram stories to cross-promote with other influencers in your niche. Focus on creating content that builds meaningful relationships with your users/visitors.
What is content creation in social media?
Social media can be a valuable asset in your content creation process. It offers you a platform where you can interact personally with a number of your prospects, thus learning more about them and their likes and dislikes. By creating a social media content strategy, you will be able to turn to your social media followers for insight about everything from popular content ideas to building brand loyalty and increasing reach.
When you put valuable efforts into your social media content strategy, fans will also tell you how much they liked the content you put out. You will be able to see the pieces that had the most success on the platforms by watching the comments as well as the traffic and shares within the platform. Since social media offers potentially millions of visitors, it can be a wonderful place to increase brand recognition and reputation.
You should carefully track the response of your audience to your articles and posts. The topics that receive the most support can be used as guides to create content for social media in future production efforts. You can also listen to conversations that occur both on and off your page and learn more about what interests your users and what they would like to learn from brands in the industry. This will also be useful when developing an editorial calendar.
How do you create a social media content strategy?
When you create content for social media that is successful, popular content, you are able to drastically increase your brand reach. Creating and promoting content that people appreciate will attract likes and shares. In order to do so, you'll first need a social media content strategy.
To begin creating a strategy, you'll need to know who your audinece is and what they're looking for on social media. You'll want to create relevant content that resonates with them. By doing keyword research through a platform like BrightEdge, you can find the keywords to use throughout your social platforms. Before you begin posting, you'll want to create an intent model and content calendar to plan your posts for the future. Once you've tested your content strategy, you can repeat these steps and alter the content to test other topics your audience may be more interested in.
When people promote your content for you, that piece and your brand will then appear on the newsfeeds of all their connections. Great content will help you bring in more followers and will introduce your brand to more people. As your community grows, you will then have an even bigger stage for conversing with prospects and learning about what they want to see from your organization.
How to Create a Social Media Marketing Content Plan
Understand How Your Ideal Customer Moves From Awareness to Conversion
Whether you've been in business for 24 hours or 10 years, defining your target customer is a crucial part of your journey. You may be thinking it's easy to define your target customer based on the usual demographics, age, gender, etc.
However, you need to go beyond simply identifying your target customer's marital status, where they live, or what their hobbies are. In the era of the "experience," you have to give your customers an experience they'll fall in love with. For example, Uber and Airbnb have grown to be successful companies because they provide a great customer experience while fulfilling a need.
Put yourself in your target customers' shoes. What is their first thought when researching a product? How do they progress from there? Most importantly, what's the final question they ask before making a purchase? To better understand this exercise, let's analyze two hypothetical target customers: Rita and John.
Rita is a creative entrepreneur and visual in her approach to business and lifestyle. She's passionate and inquisitive, always asking questions before making a decision to buy a product or service. She calls her friends on the phone, and searches with Google and through social media. Rita's way of finding answers is through a Pinterest infographic or an Instagram post.
Here's how you might identify Rita's thought process when purchasing a product or service.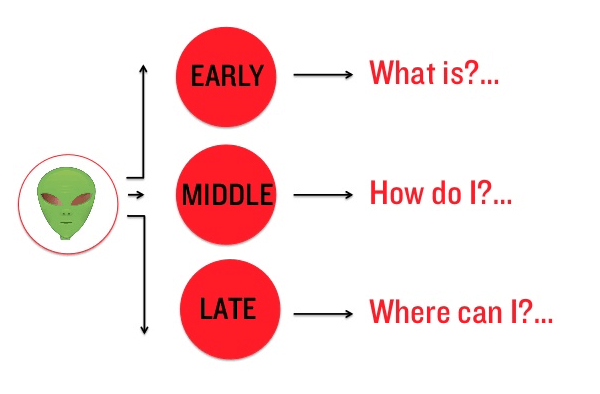 John is more analytical and methodical when it comes to a home and work/life balance. He's more interested in facts and figures than Rita, but like Rita, he talks to his friends and uses Google to gather information. He prefers LinkedIn's more B2B approach to getting answers to his questions.
Here's how you might identify John's approach to purchasing a product or service.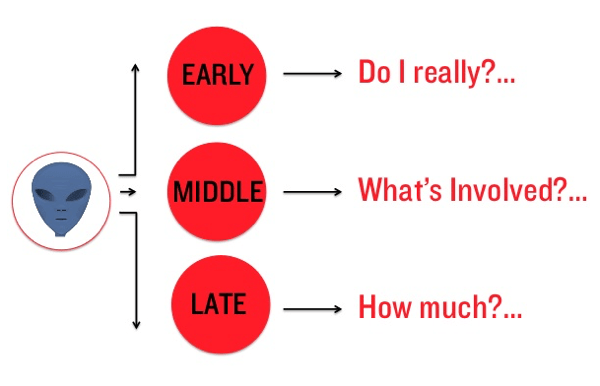 The three stages in the customer acquisition journey are always the same but with a different human approach. Your ideal customers are asking different questions, and your business can build trust by answering their questions and providing valuable content in the form of blog posts, images, infographics, and webinars.
By taking the time to understand how your target customer thinks, you'll better understand what content will resonate with them and how you can earn their trust.

Decide Why You'll Use Social Media for Business, and Identify KPIs
Defining a goal for your social media efforts is crucial. Without a goal, you can't assess the success or failure of your plan. Let's look at three potential goals you may have and how to measure them.
Build a Community
Suppose you've spent 12 months building a closed community of people who have engaged with you and bought your product or service. You've grown a private Facebook group to 350 members, and while this may not seem like a lot (considering you have a database of 17,000+ email addresses), the group is by invitation only and full of nurtured customers.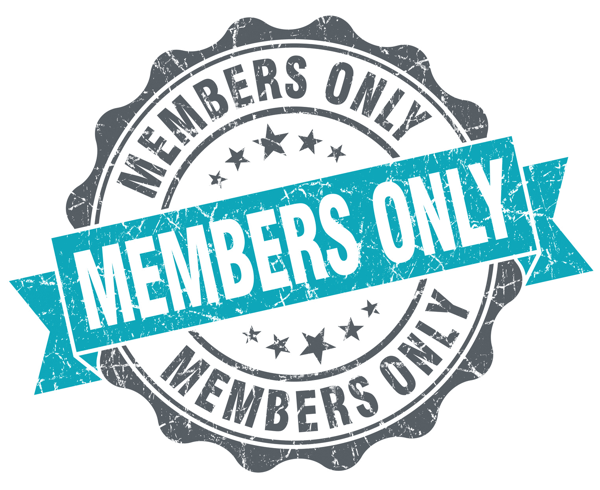 Here are the metrics you can measure when looking at the growth of this specific community:
Number of group members
Engagement on your live videos
Engagement on your daily posts
Questions your group is asking
Unfortunately, Facebook's analytics don't offer much in the way of solid statistics for private Facebook groups, so consider using a third-party tool like Grytics.

Increase Brand Awareness
The biggest reason marketers use social media is to build brand awareness. The average person will spend close to two hours a day on social media, which is why brand awareness is a key goal for businesses.
Suppose Twitter is your network of choice. You could analyze the following metrics to assess brand awareness:
Follower count
Impressions
Mention and shares
Top tweet (to help you understand what your audience engages with the most)
Top mention
Profile visits
New followers
You can find this data in Twitter Analytics.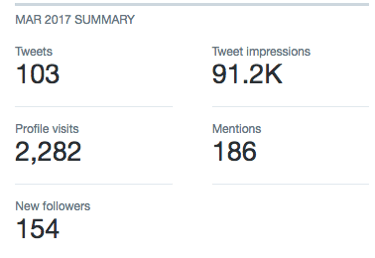 Boost Engagement
Engagement is the second most important metric businesses use to measure social media success. Boosting engagement helps you build brand trust, recommendations, and perception online. Engagement is particularly important on Facebook and Instagram because they prioritize posts with higher engagement, showing them in the feed before posts with less engagement.
Analyze engagement measures similar to those discussed above. In addition, take a closer look at the number of community members who reach out to you on a daily basis through retweets, likes, questions, and any other communication.
Choose the Right Social Network to Engage Your Audience
Targeting every social network without looking at each platform's demographics won't provide the results you're looking for. Before deciding which platforms to invest your time in, you need to do some research to find out which social networks attract your target customer. Focus on two key areas: network demographics and reciprocity across platforms.
Facebook
Facebook has over 1.86 billion monthly active users. According to a Pew Research study from November 2016, 79% of online adults use Facebook. The breakdown by age is 18-29 (88%), 30-49 (84%), 50-64 (72%), and 65+ (62%). From a gender standpoint, a higher percentage of online women use Facebook (83%) than online men (75%).
Facebook users watch more than 100 million hours of video content on the platform daily. Since the launch of Facebook Live, there has been a 700% growth in video views, with people spending 3x longer watching live video than they do recorded video.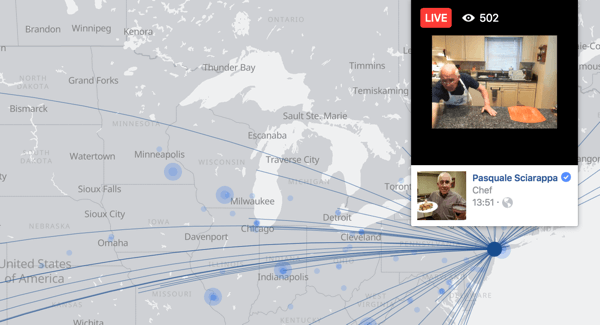 Twitter
Twitter has 319 million monthly active users. According to the Pew study, 24% of online adult men and 25% of online adult women use Twitter. Eighty percent of Twitter's usage is through mobile.
Per Statista, 22.5% of Twitter users are between the ages of 25 and 34. The next largest age groups are 35-44 at 19.5% and 45-54 at 17.9%.
Instagram
Instagram has 600 million monthly active users. By 2018, the network is projected to have 106+ million users in the U.S. alone. Instagram's worldwide mobile advertising revenue is expected to reach $2.81 billion in 2017.
Instagram skews female according to the Pew study, with 38% of online adult women using the platform compared to 26% of online adult men. Fifty-one percent of Instagram users access the platform daily, and 35% check the platform several times per day.
In 2016, Instagram released a new feature called Instagram Stories, which now has 200 million daily active users.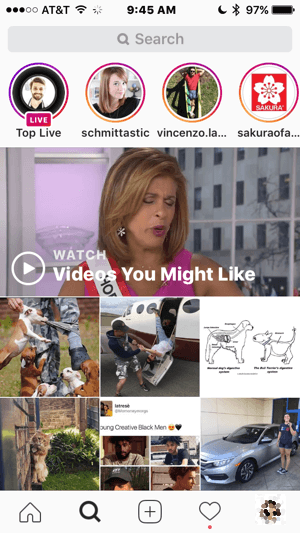 Pinterest
Per the Pew study, nearly one-third of adult Internet users are on Pinterest. Pinterest's demographics are less balanced than Twitter or Facebook, with 45% of online women using the network versus 17% of online men.
LinkedIn
Still the B2B social network leader, LinkedIn has 106 million monthly unique visitors. The network has members in 200 countries and is available in 24 languages. According to the Pew study, 31% of online adult men use the network versus 27% of online adult women.
Forty percent of users check their account daily, and two new members join the network every second. More than 1 million LinkedIn users have published long-form content on the platform, and 160,000 long-form posts are published each week.
YouTube
YouTube is the world's second-largest search engine and boasts 167.4 million unique YouTube users per month. Four hundred hours of YouTube video is uploaded every 60 seconds, and 58.2% of U.S. Internet users have a YouTube account.
In an average month, 80% of 18- to 49-year-olds watch YouTube. YouTube is a male-dominated network at 62%, with females at 38%. The user breakdown by age is 18-24 (11%), 25-34 (23%), 35-44 (26%), 45-54 (16%), 55-64 (8%), 65+ (3%), and unknown age (14%).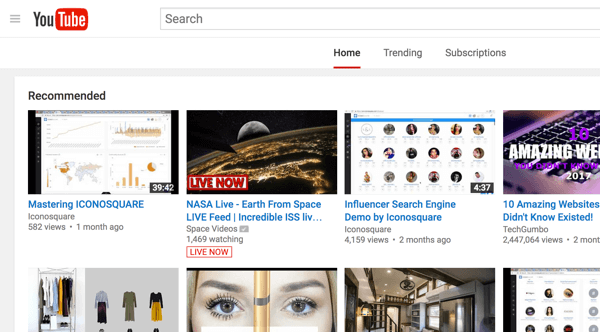 Snapchat
Snapchat has 301 million monthly active users. The audience is predominantly young, with the company reporting the majority of users are younger than 24 years old and a sizeable portion are between the ages of 13 and 17. A quarter of Snapchat users access the service more than once per day, and the app ranks ahead of Tumblr and Twitter with U.S. Millennials for user engagement.
Conclusion
Content Creation Social Media Business is an online community where you're welcome to find ideas and inspiration for content creation and how to make it your best business ever.