If you want to understand how your website stacks up, you'll need to know how to measure and analyze the metrics. In today's social media world, there are plenty of terms that are so intertwined it can feel overwhelming, especially if you don't have a lot of experience with social media marketing. That's why I've taken the time to demystify some of them for you in this most recent Whiteboard Friday – Free Social Media Analytics Training!
Hello!There's solid proof that social media is the future of online marketing because digital marketing leaders say so. But what do these changes mean to digital marketers of all shapes, sizes and specialties? What does it mean for your business? Today, I'm going to share with you a free digital marketing training on how to master social media analytics. With this guide, you'll learn how to track data analytics using simple screenshots and visual aids wherever possible — a welcome change from trying to understand large data tables.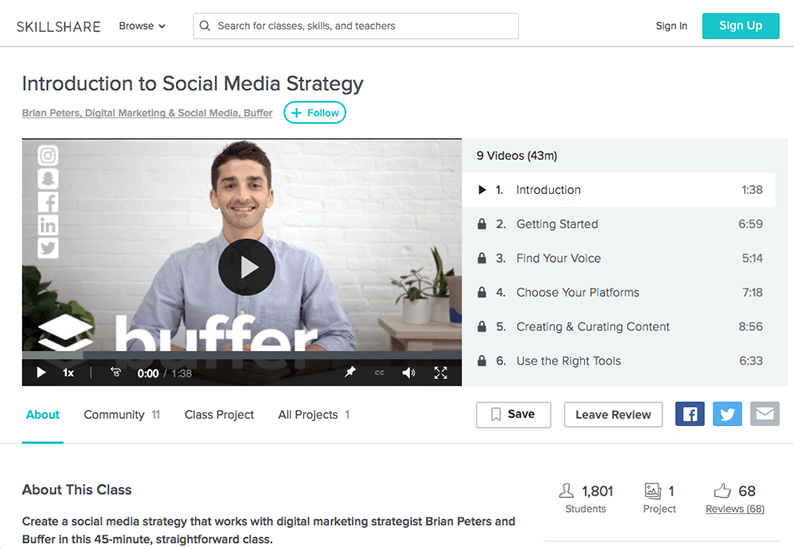 Offered by: Skillshare
Created by: Buffer
Topics include:
Getting started with social media
Finding your voice
Creating content
Curating content
Using the right marketing tools
Paid advertising strategy
Skill level: Beginner – Intermediate
About this course:
We're super excited to bring you our very first Skillshare class on social media marketing strategy! This 45-minute, straightforward class will help you create a rock solid foundation for your business or brand on social media.
Whether you're looking to foster brand awareness, increase website traffic, or drive sales, learn how to craft a simple social media strategy to achieve your goals on Facebook and Twitter. From finding your voice to paid advertising, Brian Peters (Digital Marketing Strategist at Buffer) walks through his process for custom social strategies.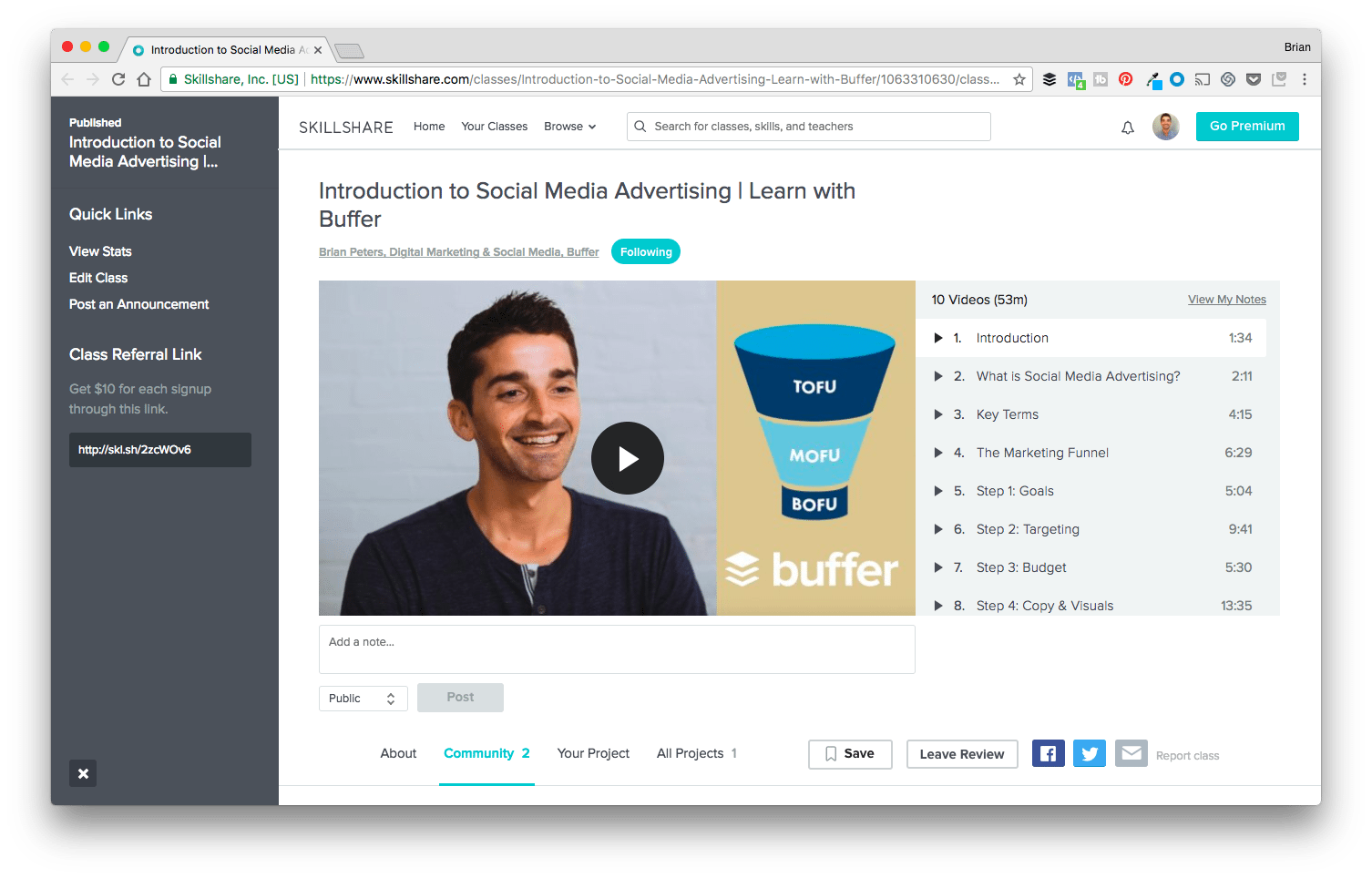 Offered by: Skillshare
Created by: Buffer
Topics include:
Demystifying key terms and vocabulary
Setting campaign goals
Targeting audience segments
Developing compelling copy and visuals
Iterating and optimizing campaigns for long-term success
Skill level: Beginner – Intermediate
About this course:
We are proud to introduce our brand new Skillshare class on social media advertising! This is a follow-up to our first Skillshare class (above) and will cover everything marketers and businesses need to know about succeeding with social media ads.
This introductory class is perfect for marketers, brands, small business, freelancers, and everyone looking to harness the potential of paid social advertising. By the end, you'll be ready to run your first social media ad campaign — and connect with customers, convert views into action, and drive impact for long-term business success! Brian Peters (Digital Marketing Strategist at Buffer) walks through his process for custom social media advertising strategies.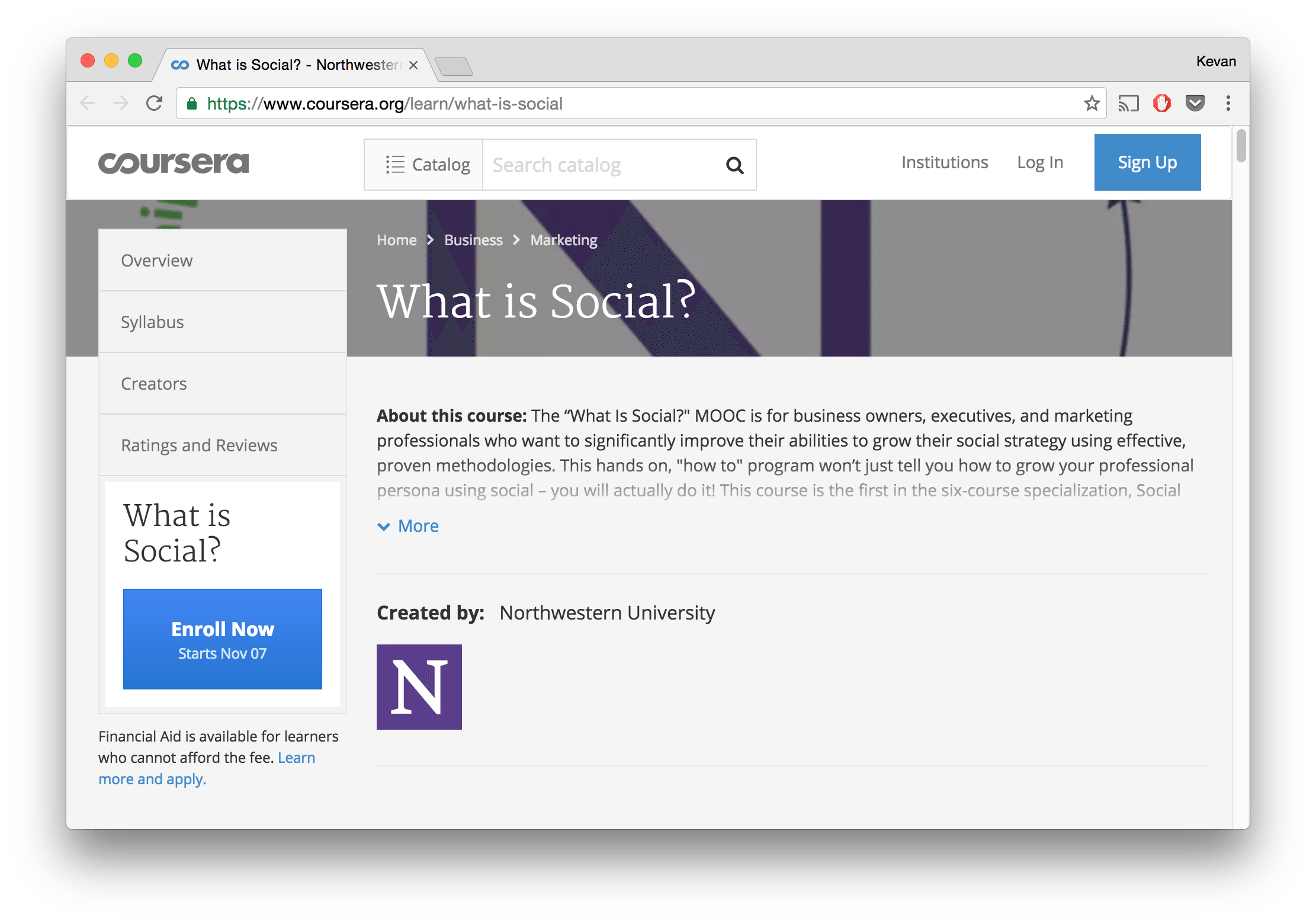 Offered by: Coursera
Created by: Northwestern University
Topics include:
Social trends
Defining target audiences
Data analysis
Skill level: Beginner
About this course:
"What Is Social?" is a massive open online course (MOOC) for business owners, executives, and marketing professionals who want to significantly improve their abilities to grow their social media strategy using effective, proven methodologies. In short, it's a really awesome, action-based intro to social media.
The exciting part with this hands-on class is that you not only get to hear about ways to grow your professional persona using social media, but you will actually do it! "What Is Social" is the first in a six-course specialization offered by Northwestern University (a top university in the United States). Once you finish this first course, you can continue on with the next steps of the track: Social Media Marketing: How to Profit in a Digital World. (The first course is free; the full track costs $426.)
One of the most valuable and information packed courses out there, teaching you everythig you need to know to master TikTok for your business or personal brand.
Your course instructors for the The TikTok Masterclass are Ed Lawrence and Shelby Leimgruber, a social media influencer with a strong track record of success. She enjoys more than 500,000 followers on social media and a 10% engagement rate.
This course includes 11 modules and additional bonuses covering everything from the basics to the complexities of working with major brands. Through this course, you'll learn:
TikTok basics
How to craft a profitable brand persona without sacrificing authenticity
How to build your audience
How to increase engagement on TikTok
How to start working with brands
The course is totally free and packed with
Resources: Brand collaboration outreach templates, influencer case studies, exclusive interviews with experts ($145 value)
Production Worksheets: Video planning and storyboard templates, camera shot list, budget templates, cue sheets ($105 value)
TikTok Stash Bundle: Engagement and Earning Potential Tools, scheduling tools, editing apps, optimisation tools, FTC requirements ($245 value)
This is a beginner-level course on social media analytics that you can take to learn the basics or simply to refresh your knowledge. The course is divided into modules or steps starting from analysing your current situation to automating analytics reports.
Here are some of the things that you will learn:
Situation analysis
Competitor benchmarking
Collecting data from different social media platforms
Identifying KPIs to measure your goals
Understanding analytics reports and metrics
Deciding on the audience for different types of reports
Automating reports
The course includes videos, reading materials, and quizzes and provides an engaging way to learn.
This is a social media certification course offered by HubSpot that will help you build a solid social strategy and strengthen your social presence.
By the end of this course you will learn how to:
Develop a social media marketing strategy
Perform social media monitoring
Develop a social content strategy
Expand your social media reach
Know how to advertise on social media
Measure your social media marketing ROI
Other social media essentials
Overall, it is an all-in-one course that covers almost all aspects that you need to get started with social media marketing. The course has 9 lessons, 34 quizzes, and 40 videos. It takes 4 hours and 39 minutes to complete, but we suggest taking more time to understand each topic thoroughly.
Unlike most other courses on this list, this one does not contain any videos or interactive elements. It is, in fact, in the form of a 165-page ebook which details all major aspects of social media marketing.
Once you finish reading the course material, you can take a test. If you pass the test, you will get a certification that you can add to your resume.
Here are some of the topics that are covered in the course:
Basics of social media marketing
Different social media platforms
How to identify and define your target audience
How to engage your target audience
Sharing content on social media
Social media strategy
Dos and don'ts of social media marketing
As it is a completely text-based course, the completion time may vary from one person to another. Read it at your own pace and take the test only when you are ready.
Offered by: Coursera
Created by: Eric Schwartzman
Topics include:
Keyword filtering
Google related searches
Using Google Alerts and its benefits
Identifying influencers and content curation possibilities
Monitoring strategies for Facebook, Twitter, and more
Skill level: All Levels
About this course:
This free social media class on how to monitor what your audience and customers are saying online is for marketers looking to keep a finger on the pulse of their community. Whether you're just starting out in social media or are a seasoned veteran, this course has actionable social monitoring takeaways for people of all skills levels.
The course provides detailed examples of monitoring in action, allows you to get an overview of the different social media monitoring tools available for use, and strategies for how you can use what you've learned and apply it to your own social media program.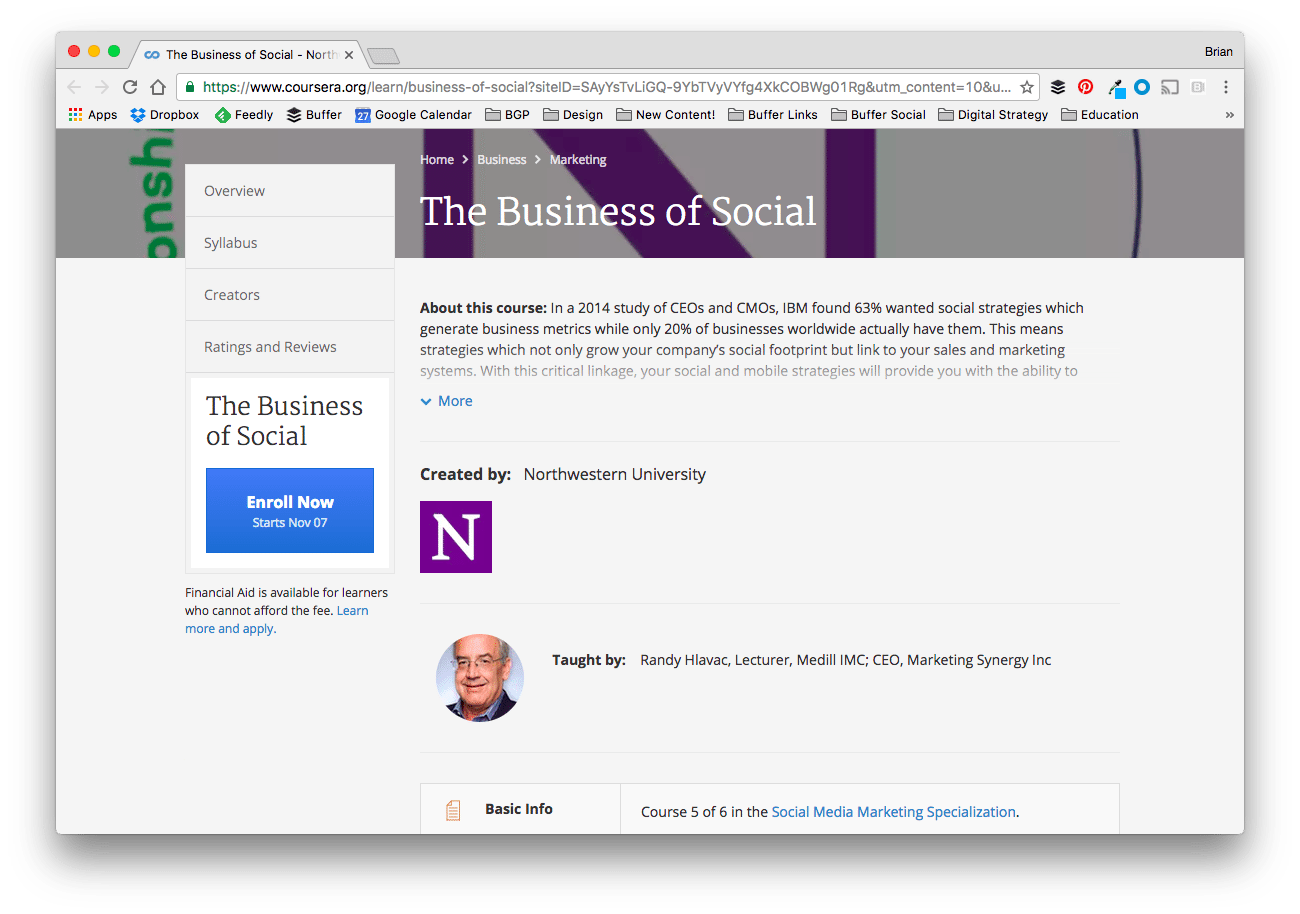 Offered by: Coursera
Created by: Northwestern University
Topics include:
Discovering where social media "fits in"
How to tie social media to real business results
Managing and measuring a successful social media program
Skill level: Beginner – Intermediate
About this course:
"The Business of Social" is for businesses owners, marketers, and social media managers looking for ways to tie social media directly into real business growth objectives. In other words, those looking to drive real, measurable value from a social media strategy and program.
Instead of focusing on how marketers can create great content for social media, this class more focuses on how exactly to measure your social investments in terms of time, cost, and opportunities.
This is a course on personal branding that will help you build a unique social media identity and a strong social presence. This is most useful for influencers but is something that all marketers can benefit from.
The course is divided into four parts all in the form of videos, making it easy to grasp the concepts. Additional course materials also include a 21-page guide on personal branding.
This is a free course offered by the prestigious University of California, Berkley. It provides a broad framework for writing content for social media. The instructor of the course is Tim Peters, who is a Lead Content Strategist for Tata Consultancy Services.
Here are some of the things that you will learn:
Understanding your target audience
Writing content tailored to your audience, keeping the delivery channel in mind
Using effective writing strategies to optimise your content
Connecting with your audience by communicating the right way
The course will take 4 weeks to complete. You can take the course for free but to get the certificate, you need to pay.
Google — Google Analytics for Beginners
While it says beginner in the title, this course is a bit more advanced than the previously listed courses and should serve as your first step into utilizing analytics.
You'll learn to set up data filters, navigate the Google Analytics interface and reports, and set up dashboards and shortcuts. The course will also demonstrate how to analyze basic Audience, Acquisition, and Behavior reports, and set up goals and campaign tracking.
And because the Google Analytics course is extensive, you'll have plenty of ways to move forward in expanding your skill-set after completion.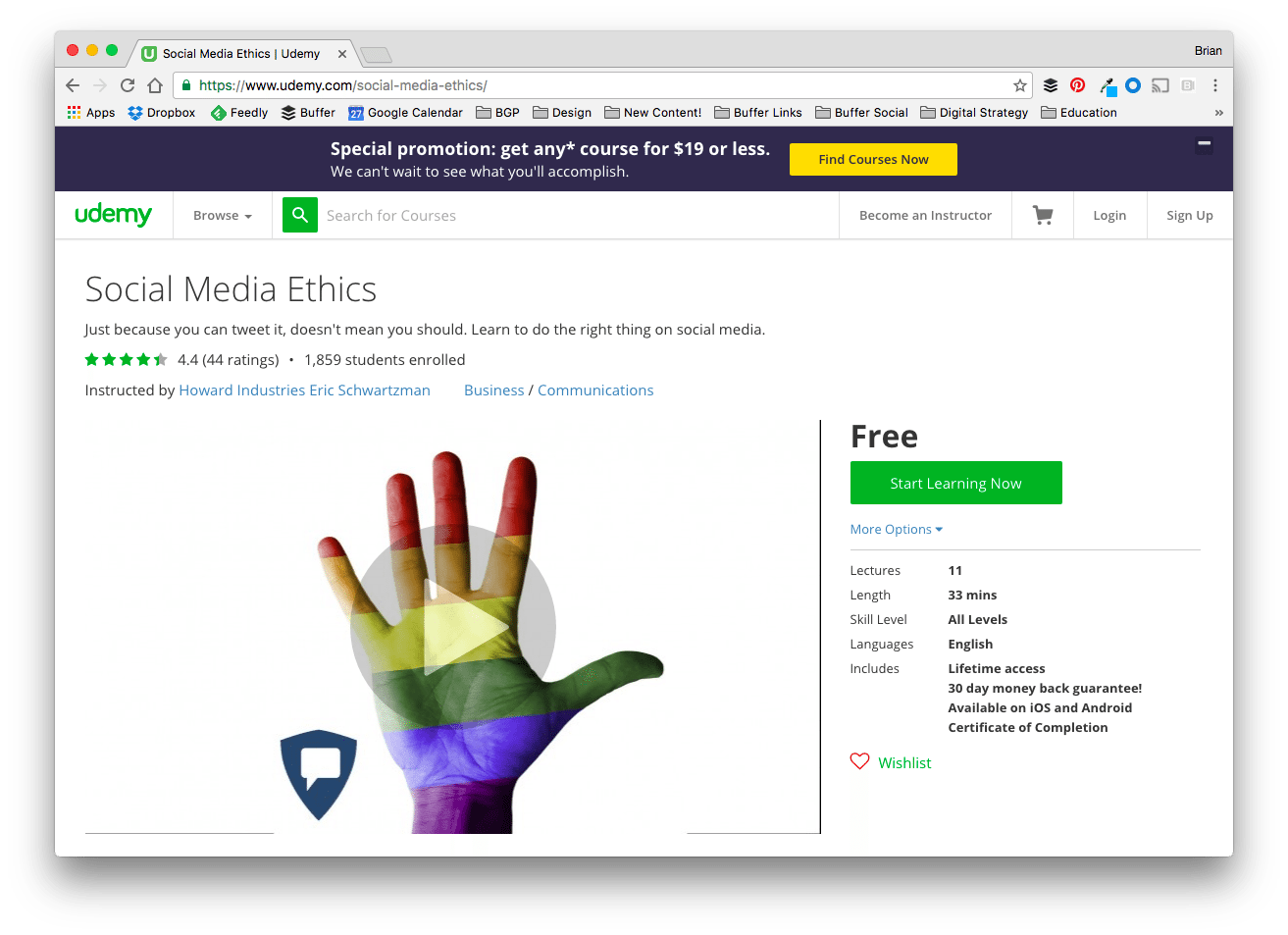 Offered by: Coursera
Created by: Eric Schwartzman
Topics include:
How to use good judgement when using social media for work
What constitutes ethical behavior on social media
Demonstrating consideration for others on social media
Skill level: Beginner
About this course:
Have you ever wondered what it means to use social media effectively and ethically? This free course on "Social Media Ethics" provides the framework for social networking and engaging in ethical conversations online for all professionals and employees. Touching on local, State, and Federal laws, it takes the guessing game out of what is and is not legal on social media for employees of businesses.
Conclusion
Social Media Analytics is a free e-course, with step by step training for beginners. SocialPilot and Twilert will be used during the course. You can use either service or even your own tools to follow along.