Below is a free list of social media management tools. The list includes free social media tools for scheduling tweets, monitoring mentions on Twitter, Facebook, LinkedIn, YouTube and more. If you run or manage a business or organization on social media or are considering to start using social media platforms like Facebook, Twitter, LinkedIn, YouTube for your brand this list of social media management tools can help you manage your social media accounts more effectively.
For the current year, here is an organized list of free social media tools to help you with managing your online social presence.
ContentCal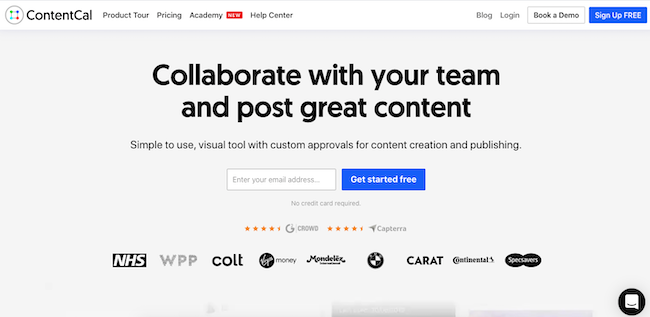 ContentCal is the ultimate tool for bringing your team together. It's essential for creating social media content production workflows and managing ongoing projects.
You don't have to provide any credit card information to get started with their free trial. You can also sign up for their Hobbyist plan, which is free for single users to get access to four social profiles, one calendar, and 10 posts per month.
Their features cover all the bases, from planning and publishing content to reviewing analytics and responding to conversations.
For creating content, your team uses the content hub to collaborate on all ongoing social media content initiatives. You can integrate with all your favorite tools, including Trello and Slack, and the pinboard makes filling your calendar as easy as dragging and dropping posts.
This platform also includes snippets to save commonly used phrases and a web clipper tool so you can grab resources you want to share while you're browsing the internet.
Other notable features include:
Robust analytics reports for measuring content performance, follower growth, engagement, and more, all displayed in colorful graphs and charts.
Tagging options to organize all your output by theme, category, or any other category you want to track.
A shared team inbox for managing all social media conversations in one central location.
ContentCal Upgrade Options
Pro: $17/month when paid annually

You must sign up for a full year to access the Pro tier. 

Company: $47/month when paid annually
Premium Custom: Reach out to get a custom quote. 
Enterprise Custom: Reach out to get a custom quote. 
Agency: Reach out to get a custom quote. 
Learn more about their pricing options, optional add-ons, and additional services here. 
Hootsuite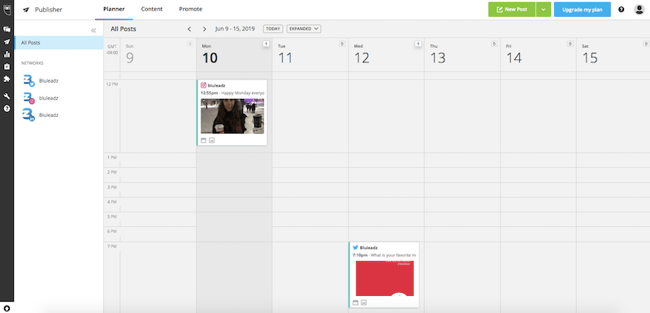 Like many of these tools, Hootsuite offers both free and premium plans. Their free plan is pretty robust and allows you to:
Manage three social profiles in one place.
Schedule up to 30 posts in advance.
Generate leads using social contests.
Easily integrate with 150+ free and paid apps.
The free plan also includes some basic analytics to help you track followers, various growth and content stats, and two RSS feed integrations. Not too shabby for a free tool.
We love using this tool to schedule out our social posts because of the way it's organized – a visual calendar dashboard shows you what you'll be posting and when. Now that's organization.
Hootsuite Upgrade Options
Professional: $29/month
Team: $129/month
Business: $599/month
Enterprise: Custom plan; contact for pricing 
Read more about pricing options here.
Instagram is one of the most popular social networks, with over 1 billion users active on the platform each month. Later started as an app dedicated to Instagram as a scheduling tool, but since its inception, they've added support for other social networks and are continuously adding new features. The app has a strong focus on visual content. Whether you want to schedule in-feed image or video posts, stories, or carousel posts — Later supports all of these options. Later has a free plan available that you can use forever, but you get features such as analytics, saved captions, scheduled stories, and more for paid plans. Their paid plans start at $9/month.
Those who rely on Twitter to get their message across will find much to like about TweetDeck. TweetDeck is a free application that enables you to manage multiple (unlimited) Twitter accounts from a unified interface. You can create your own customizable social media dashboard that allows you to send and receive tweets and manage and monitor your Twitter profiles. You can use TweetDeck as a web app, Chrome app, or desktop app. TweetDeck can be set to post scheduled tweets, build Tweet lists, and more. And the extra special part is that it's always free.
Monday.com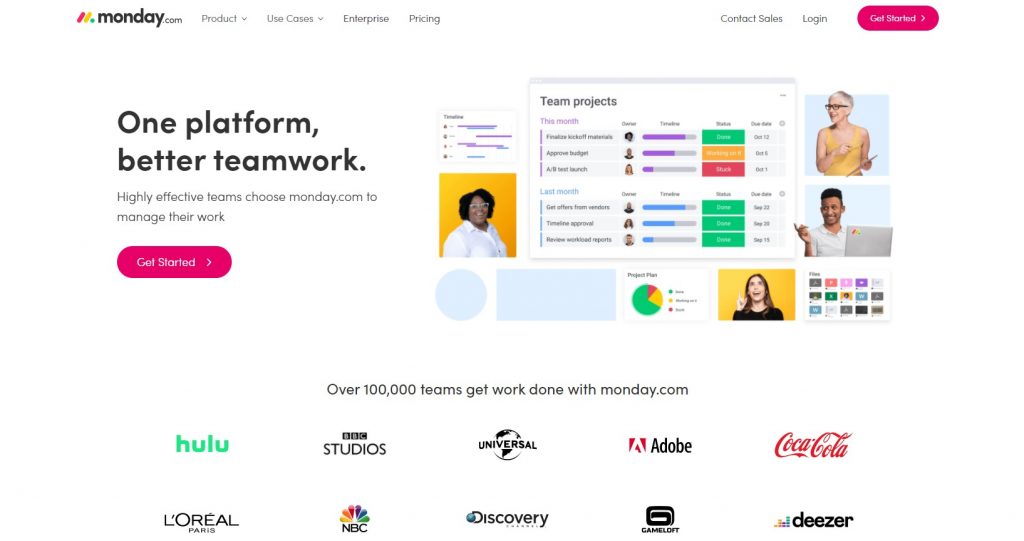 Monday.com doesn't include a free plan, but it does offer you a free 14-day trial. Its Basic plan costs $8/seat/month. That plan is for teams just getting started with managing all their work in one place.
Monday.com doesn't specifically target social media marketing. Instead, its focus is on improving the efficiency and workflow of your team. It is ideal for marketers and those wanting to create a logical workflow to manage their social media accounts.
Boards are at the heart of Monday.com. A board is a fully customizable table for managing
 your projects, workflows, and everyday work. You build boards that represent your workflow. Monday.com includes numerous templates to give you a starting point, one of which targets social media management. That template creates two boards:
Campaign ideas and requests
Campaign progress and status
Team members can make suggestions for upcoming social media posts on the Campaign Ideas and Requests board. If you decide these ideas are viable for a post, you can use the board to create an efficient and standardized workflow for a social media campaign.
The Campaign Progress and Status keeps track of your campaigns, split into Upcoming Campaigns, Live Campaigns, Completed, and Stuck.
Falcon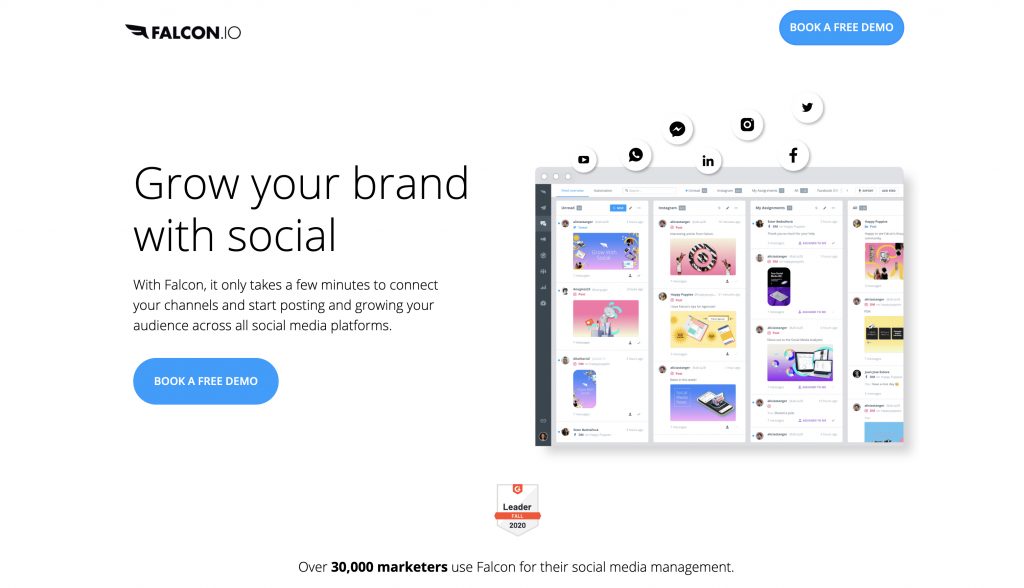 Although Falcon is not a free social media management tool, with the cheapest plan (Essentials) costing $129 per month for single users and small teams, it does offer a 14-day free trial. It doesn't give a price for its more advanced Full Suite plan, targeting larger companies with multiple teams and markets, although it enables you to request a demo.
Falcon emphasizes that it offers 7-days a week support, with a real-time in-app chat, email, and telephone service. It also provides weekly training sessions, and you can find answers in its help center.
The Essentials plan focuses on publishing & scheduling and social media engagement. You can use an editorial calendar to plan, schedule, and edit across multiple social networks. It offers a content pool, meaning you can store assets for repurposing, plug into your DAM, and use Falcon's cloud storage. It provides a customizable inbox, where you can arrange multiple feeds to build the inbox that suits you best. If you have a team, you can share notes and add messages to your team members. Existing contacts' profile cards appear beside their messages. Falcon offers advanced metrics for Facebook, Instagram, and Twitter.
The Suite package offers everything available in the Essentials plan (allowing for larger teams and more significant usage) and adds a number of additional features. These include social listening, where you can monitor social media and the internet to discover much information about your business. You can track brands, topics, keywords, and phrases and even refine them with advanced parameters.
With Falcon's Full Suite, you can benchmark your strategy across all major social networks. Falcon has a database of over 100,000 brands, letting you benchmark your performance on multiple levels. You can also schedule and post ads on Facebook and Instagram without having to leave Falcon.
Falcon identifies the visual elements of images from the most engaging branded content. You can even invite your team to collect and comment on highly engaging branded content from other brands.
SocialOomph
Not only do I love the name of SocialOomph, I'm quite impressed by the wide range of features they offer for multiple platforms – ranging from the typical features like scheduling and analytics, to some interesting ones like keeping your DM Twitter Inbox clean to help with increasing followers. They definitely offer a wide variety of unique features for Twitter, Facebook, LinkedIn, and Pinterest management, as well as the ability to manage and schedule blog posts.
While SocialOomph does indeed have a free plan, the features are limited and mostly lean towards Twitter management. On the free plan you can do things like schedule tweets, track keywords, shorten URL's, and manage up to five Twitter accounts, but some of the more sophisticated features require a paid plan. If you're looking to manage multiple social platforms aside from Twitter you will need to pay to play.
Friends+Me
Friends+Me is another prime player in the social media management tools family. While Friends+Me puts the highest emphasis on Google Plus features, many other social platforms are supported. Friends+Me appears to get rave reviews from users, and has a beautifully designed website with plans available based on the size of your business. And yes, there is a free plan!
While the free plan is not super robust, it still allows for two queues (which is a destination to publish posts), the ability to schedule five posts per queue at one time, link shortening, browser extensions, an integration with Zapier, as well as standard support. The free plan can also be used for a variety of social platforms like Google+, Facebook, LinkedIn, Twitter, and Tumblr.
Pinterest and Instagram are supported as well, but you will need to upgrade. Plans range from $7.50 to $216 depending on if you decide to utilize monthly or annual billing.
Conclusion
Business is booming and you're adding new customers every day. You know that these new relationships require more than just one-time contact to ensure successful business interactions. You need to network and grow your network consistently and effortlessly. Not only are you doing all of this, but you're able to do it better and faster than most of your competitors — with limited resources — which is why we enjoy working with you. If social media marketing tools are getting in the way of your ability to keep up with your ambitious goals, it's time to start looking for a solution.