What are the best Social Media Marketing Tools to use for your business? This post will give you a list of social media marketing tools and show you what each tool does so that you can more easily find the free or cheap social media marketing tools that would be the best fit for your business.
1. AdsReport
With a successful paid social strategy, you can accelerate progress toward your brand's goals.
Whether you want to grow your audience, sell more products, or do anything in between, Facebook Ads can give a much-needed boost.
But tasks like monitoring ad accounts and tracking results aren't as simple as they should be.
If you need to confirm basic metrics like spend, impressions, or cost per click (CPC), you often have to sort through a mountain of data in your Facebook Ads account.
When you want to streamline your analysis, AdsReport has you covered.
Once you connect your Facebook Ads account, you can see insights in seconds.
Key metrics like spend, revenue, impressions, clicks, click-through rate (CTR), and CPC appear at the top with helpful comparisons to the previous period.
Click to view more metrics, and you can see all the other data that matters to your teams, such as page likes, landing page views, post engagement, and purchase metrics.
Just want to check stats for a specific campaign? Scroll down, and select the right campaign.
Along with campaign metrics, AdsReport identifies the best-performing ad based on criteria like clicks, impressions, CPC, or CTR.
2. Adobe Post
Adobe Post was created to give you a powerful tool to differentiate among the competitors and engage your followers with eye-catching posts. Create stunning social graphics in seconds with it. Get started quickly with handcrafted remixable design templates made for social sharing. Resize your text – beautiful typography will be automatically applied on the fly. Transform your text and photo into professional-looking graphics with a single tap.
3. Tailwind
If Pinterest and Instagram are your primary focus for social media marketing, Tailwind is a software you must use. This platform will help you a lot around these two platforms and make sure that your accounts grow quickly.
Tailwind is the marketing partner for these two platforms, so they are safer to use. It is simple and easy to get started. You can log in to the platform using your Instagram or Pinterest account and start using it.
When you use it for Instagram, Tailwind will quickly create hundreds of copies of your photo in a click with a perfectly optimized design using the Tailwind Create option and help you save a lot of your time. You can fully customize the design that you select to share and you can then find the relevant hashtags right from the Tailwind dashboard and schedule the post.
So, you can schedule the posts for an entire week or month in advance so that you have plenty of time to focus on other important tasks while your Instagram account is regularly active with fresh content.
You can add your brand details, logo to the platform and Tailwind Create will use those elements to create a highly personalized version of the photo you uploaded.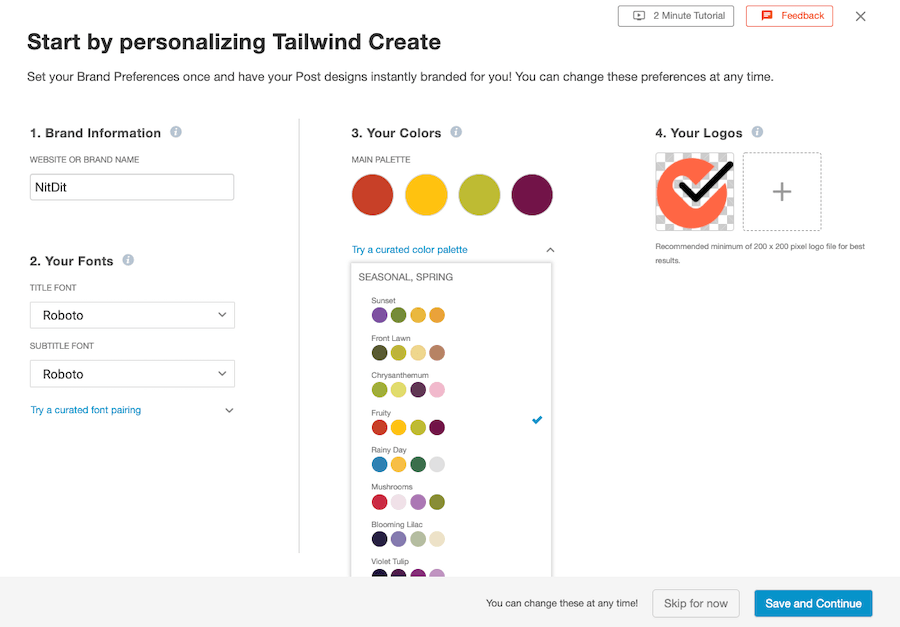 Tailwind for Pinterest
Tailwind is the most popular software when it comes to Pinterest marketing. It has a deep knowledge base when it comes to growing your Pinterest followers and traffic and the right kind of tools to optimize the overall process.
You can create your Pins on this platform and schedule all the posts for the most active timings so that you get the best out of each Pin that you share.
It also gives you comprehensive analytics around your Pinterest activities, share and traffic so that you can plan your Pinterest marketing accordingly.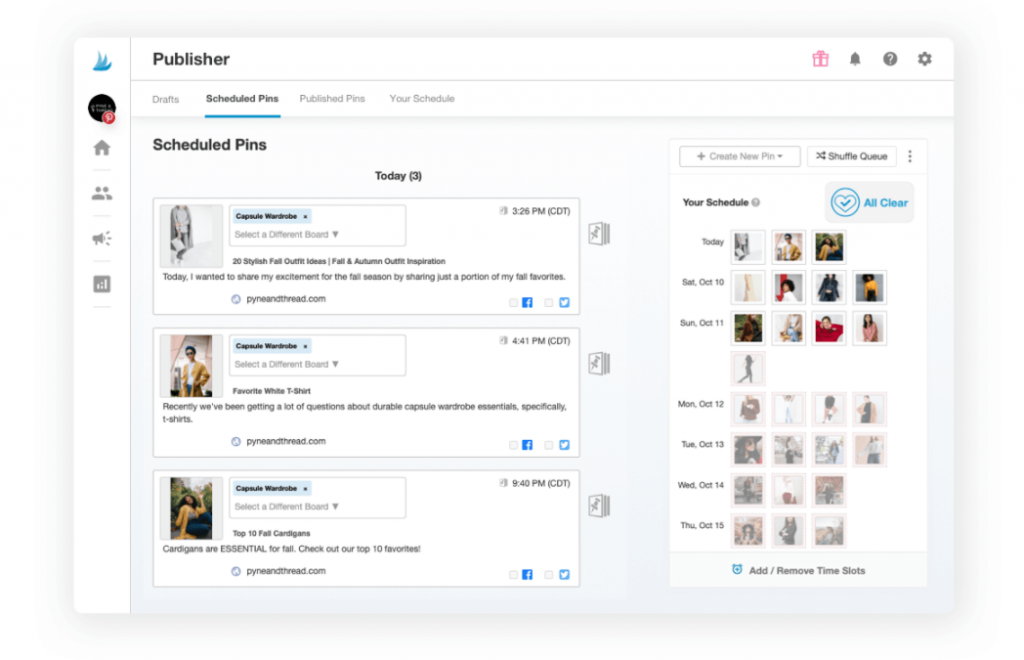 4. Buffer
All of us are short of time. That's why we list Buffer among the other social media marketing tools. Buffer is a great way to drive traffic, increase fan engagement and save time on social media. It allows you to create a posting schedule for your Twitter, LinkedIn, Facebook, Pinterest, and Google+ pages all in one place, creating a queue. That's helpful.
---
Buffer has various kinds of products under its name. These products belong to different categories like publishing, engagement, analytics, and team collaboration
Buffer is also available for different platforms like Desktop, iOS, and Android. In addition to that, you can get started with the app free of cost.
However, the free version of the app comes with a bunch of restrictions. And to get rid of such restrictions you will need to pay a monthly subscription fee.
Read our review of Buffer and the top Buffer alternatives to find more social media management tools.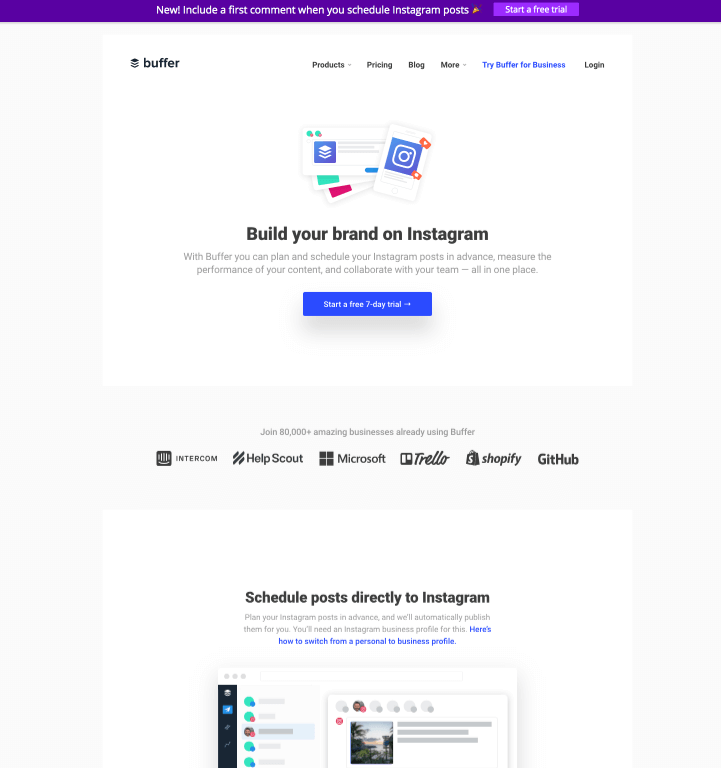 5. Bit.ly
When you share links on social media, you don't always want to show the original URL. Maybe the URL is way too long and would clutter up your post so you'd prefer a shorter link. Perhaps the URL points to a website that you don't manage and you'd like to find a way to track stats.
Many of the best social media management apps include tools that automatically shorten your URLs.
But these built-in tools don't always give you much control over the process.
Meet Bitly, a free social media marketing tool that shortens URLs and stores them in your database.
With Bitly, you can make any URL shorter or create a URL with a custom slug, such as bit.ly/my-custom-slug.
Within your database, you can give URLs original titles and add tags for better organization. That means you can tag all URLs related to a campaign or promotion so you can find and analyze them easily.
But Bitly offers much more than shortened URLs. This tool also provides basic analytics, so you can understand how each link performed. You can monitor the number of clicks your URLs received each day, and you can track each link's referrals.
With a glance, you can see whether social media, email, or SMS campaigns drove clicks.
If QR codes are part of your marketing strategy, you'll appreciate Bitly's simple QR code generator. You can create a QR code for any Bitly link, giving your audience another way to connect with your brand.
If you have extra room in your budget, Bitly also offers paid features.
With a paid plan, you can create branded URLs with custom domains, which can improve CTR and help you reach your web traffic goals even more reliably.
6. Hootsuite
Hootsuite is also a great social media management tool that you can try out. With this tool, you will be able to do different tasks with ease. Like you will be able to manage your content with ease.
You can schedule your posts for social media platforms. As a result, you will be able to save time. Also, the best part of scheduling your posts is that you can even keep your account activated when you are offline.
In addition to that, Hootsuite also lets you Track and prove social ROI. As a result, you will be able to measure the impact of your social media campaigns through comprehensive reporting.
However, there is no free plan is included with Hootsuite. Instead, there is a 30 days trial period. Also, their plan starts at $29 per month.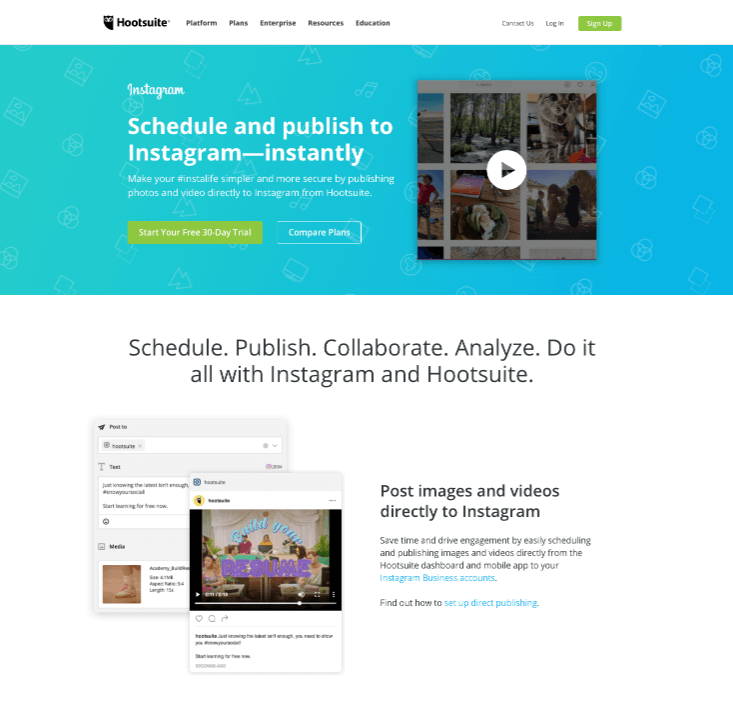 7. eClincher
For our next pick, we have the eClincher. This is one of the Best Free Social Media Management Tools out there. And the best part of this tool is that it is packed with some amazing features.
It lets you connect all your social accounts in one place. So you can focus on them without leaving eCincher.
You also get the Publishing & Scheduling feature, so you publish and schedule posts on different social media platforms.
It also comes with a social inbox feature, as a result, you will be able to manage all the live conversations of all your social media accounts. With their Monitoring & Listening feature you will be able to like, comment, follow, and start new conversations on your social media accounts and do a bunch more.
Also, if you want to get a paid membership, then their basic plan starts at $49/month.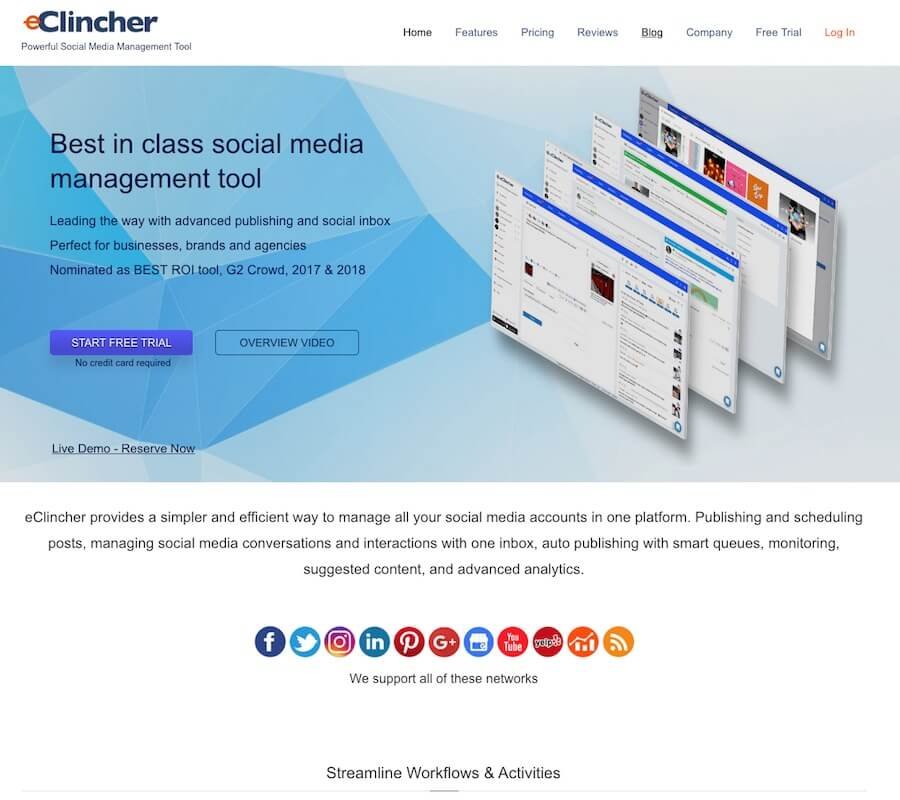 8. Canva
Whether you're sharing a blog post, a seasonal sale, or anything else on social media, you need images. Good, high-quality images.
But snapping your photos and designing your graphics takes time and money.
If you don't have much of either to spare, Canva is an excellent option. This free design app lets you create all kinds of graphics, from Facebook cover images and Instagram Stories to tweets and images for your blog posts.
You can get started by choosing from hundreds of templates.
All of Canva's social media templates follow each platform's recommended image dimensions, so you don't have to worry about resizing. Just swap in your text, logos, and photos to customize each graphic.
If you don't have original photos to work with, choose from Canva's free library or download free images.
Once you create something you like, you can use it over and over. Just copy the design and update the text or images, and you've got a branded template that you can reuse.
If you find that you're using Canva constantly, you might benefit from the paid version.
When you upgrade to Canva Pro, you can set and save brand colors and fonts, add GIFs, and resize designs for other platforms with a single click.
9. Babbly
Babbly is an awesome platform for quality content owners. It works as simple as follows: give a share – get a share. Share others' content to get shares of your content. Share to multiple networks at once with just one click. Pause & play your content. Control when your content is visible to others on Babbly. Control when your content goes live. Schedule your posts. Schedule when your posts go live on babbly and your social media. The tool helps you in reaching the target audience at the right time. Relax and don't worry about flooding your follower base again. Auto spread shares to your social networks to go out in timed intervals.
10. Easel.ly
When you publish a social media post, you have limited space and time to attract attention. If you have a long or complicated message to share, you have to get your point across before followers to scroll past.
Infographics use the power of images to capture attention and convey more complex ideas.
But designing infographics takes talent. You can't just throw one together in a few minutes.
That's where free social media marketing tool Easel.ly can help.
This free social media tool lets you create sharp-looking infographics without a graphic design degree.
Get started by choosing a basic template. Then add graphics, charts, data, and other visual elements.
To add movement to your infographic, you can insert animated GIFs. Easel.ly is also integrated with Unsplash, so you can add royalty-free photos to your design.
When you're finished, you can download or embed your infographic. You can also use Easel.ly's social media integrations to share directly to Facebook or Twitter.
Although Easel.ly is one of the top free apps for social media, you can get even more out of the paid version of this tool. Upgrade to get hundreds of premium templates, over 1 million icons and photos, and better organization.
Conclusion
Many small businesses do not use social media for marketing because it is too costly. This has changed now with various social media marketing tools. There are now free social media marketing tools that are available to entrepreneurs and any business that wishes to utilize the power of social media for building their brand awareness, generating sales, or engaging with customers.