Are you looking for the best social media marketing tools out there? Social media has become an increasingly important driver of traffic to businesses that are smart enough to embrace it. Tools like Hootsuite streamline the process of managing several social media channels without you having to leave your daily routine. But what if you are looking for open-source or freeware social media marketing tools that can help you achieve similar goals leveraging open source software?
1. Fboardpro
f-board pro is a multiple Facebook account management platform trusted by businesses, agencies, and individuals to help you to log in to multiple Facebook accounts from your iOS or Android device.
f-board pro has special features include: you can schedule a post by selecting an image with a caption text and scheduling time and date. It is used for publishing, engagement, and team collaboration.
This platform is user-friendly, timely, easy, and more. It has a full installation guide for android and iOS devices. It is written with Java and Objective-C languages.
Features:
Multi accounts manager
Home feeds
Comments view
It has a section for people who liked
Pages feed
With it, you can see your friends list
You can see the profile timeline post
Open source
2. CampaignChain
CampaignChain is yet another venerable option of the best free and open source social media marketing software. Social media marketers can use this software to create a powerful social media marketing campaign, execute it efficiently, and monitor the results to plan better strategies. The free and open-source social media marketing software even allows social media strategists to optimize their tactics across multiple platforms and channels. 
The leading open-source social media marketing software enables the marketing teams to orchestrate corporate interactions anytime and get real-time data to streamline marketing campaigns. They also have the leverage of automated marketing workflows and customized ROI reports. The social media marketing tool also helps businesses to retain their potential clients with optimal services.
Prominent Features-
CampaignChain allows marketers to integrate their marketing tools with the software for real-time holistic marketing experience.
This free social media marketing tool helps social media strategists prepare and manage different marketing campaigns based on business requirements. They can even create marketing activities and milestones and copy a campaign template to convert it into repeated or scheduled drives. 
This social media marketing tool allows marketers to manage current and future marketing campaigns in a single timeline. They can edit the data and use drag-and-drop to prepone or postpone the campaigns. 
The marketing professionals can plan all activities and milestones according to the calendar schedule.. 
The social media marketing experts can have real-time access to all the ongoing and upcoming marketing campaign executions. 
This social media marketing software helps in analyzing the engagement statistics for each of the activities. CampaignChain uses Google Analytics to monitor web traffic on different social media platforms and decide on a compelling call-to-action to increase visitors' numbers.
3. Socioboard
Socioboard is one of the leading and reliable Free and Open Source Social Media Marketing Software that powers business enterprises with a substantial lead generation on various social media platforms, robust customer support, and automation abilities. It helps entrepreneurs harness social media marketing strategies by using a set of advanced tools.
Socioboard is also involved in developing innovative products for a wide range of social media networks. It also builds desktop applications that have been restrained by different APIs of social platforms. Even the mobile apps provide a unique and compelling user experience with the original network.
This best free and open source social media marketing software provides three distinctive versions, all having various sets of features. One can select the text based on specific business requirements.
Salient Features-
This free open source social media marketing tool is highly-scalable and customizable.
It offers swift and simple management of multiple social media platforms.
One also comes across interactive social discovery and instant feeds.
The software is integrated with CRM and team collaboration tools.
It provides modern tools for scheduling and publishing.
The users even get real-time analytics with different parameters.
The open source social media marketing software can streamline tasks with intuitive workflow management. 
Client management becomes much more comfortable and flexible. 
Socioboard helps to automate social media company profiles. 
It is extensible in the plugin format. 
This free social media marketing tool is available both on Android and iOS platforms.
4. Tinfoleak
tinfoleak is more than a Twitter management tool; it is a powerful analysis twitter tool that automates the extraction of information on Twitter and facilitates subsequent analysis. It analyzes the Twitter timeline to extract great volumes of data.
tinfoleakis great for researchers who want to organize, analyze the data and extract the whole benefits from it.
It can extract the account information, user activity, protected accounts, user relations, hashtags, mentions, likes, and more.
It is licensed under CC-BY-SA-4.0 License and written in python and HTML.
Features:
Automate the extraction of information
Facilitates subsequent analysis for the generation of intelligence
Taking a user identifier, geographic coordinates, or keywords
It is included in several Linux Distributions
Open source
5. Aggie
Aggie is a web application that wants to help social media marketers with three key jobs: reducing incoming data to find interesting information, monitoring events in real-time like elections or natural disasters, and trend visualization and search features.
Aggie can take data from Twitter, Crowd tangle (Facebook, Instagram), RSS, answers to survey questions.
It is released under MIT license and written with JavaScript.
Features:
Efficient Data Exploration
Incident Tracking
Team Coordination
Pull reports from Twitter, Facebook, SMS, RSS, and More
Trend Monitoring
Mapping
It has full-text search or filter by tag, author, source, status, or date/time
Flag reports
Lightning fast
Streaming interface
6. Chaskiq
Messaging platform for sales and marketing teams for WhatsApp, Facebook Messenger, Slack, Twitter, Help scout, Pipedrive.
Chaskiq helps to scale the customer service abilities, receive data from trusted sites,
Automated bots, onboarding tours when they land on specific pages, Data enrichment and integrations, and more.
Features:
open-source
Web Chat
video calls
Onboarding tours
one-off messages
newsletter campaigns
Schedule repetitive tasks with bot actions
Social network channels integration
Use a modern chat text editor
Easily find leads and customers
Multiple attributes for targeting
Bring your own filters
7. RecurPost
RecurPost is one of the best free social media marketing and scheduling software that automatically lets you share all the updates at the most convenient time to surge your social media presence every week. It is indeed the best free social media marketing software for broadcasting the content and spreading your brand amongst potential customers. 
One of the major unique selling points of this software is its real-time access to repeat scheduling for free. RecurPost can help you schedule your Facebook posts, tweets, LinkedIn and Instagram posts, and more. You can also regularly post on the Google My Business page to boost your search engine rankings. 
Image source: RecurPost
Features:
The social media marketing software allows you to schedule all your content hassle-free with the help of a smart scheduler.
Enhance your team collaboration to share automatic updates at regular intervals while executing social media strategies.
Find relevant and informative content easily according to your convenience.
RecurPost is also available in the form of a mobile application.
You can personalize your reports, use your logo, and maintain the brand value simultaneously.
You also have the leverage of migrating from the previous scheduler with ease. You don't have to recreate the updates.
8. Tailwind
If Pinterest and Instagram are your primary focus for social media marketing, Tailwind is the software you must use. This platform will help you a lot around these two platforms and make sure that your accounts grow quickly.
Tailwind is the marketing partner for these two platforms, so they are safer to use. It is simple and easy to get started. You can log in to the platform using your Instagram or Pinterest account and start using it.
When you use it for Instagram, Tailwind will quickly create hundreds of copies of your photo in a click with a perfectly optimized design using the Tailwind Create option and help you save a lot of your time. You can fully customize the design that you select to share and you can then find the relevant hashtags right from the Tailwind dashboard and schedule the post.
So, you can schedule the posts for an entire week or month in advance so that you have plenty of time to focus on other important tasks while your Instagram account is regularly active with fresh content.
You can add your brand details, logo to the platform and Tailwind Create will use those elements to create a highly personalized version of the photo you uploaded.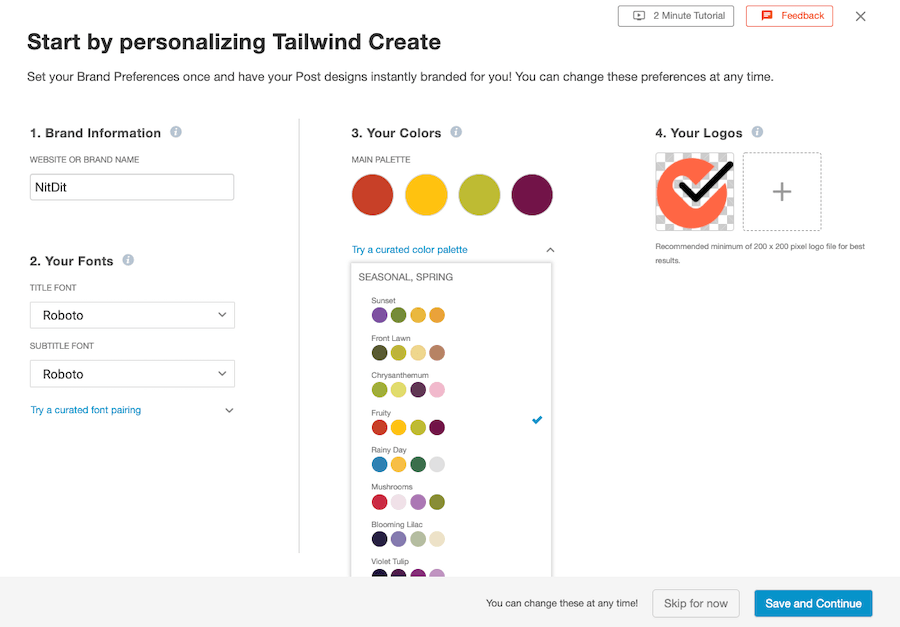 Tailwind for Pinterest
Tailwind is the most popular software when it comes to Pinterest marketing. It has a deep knowledge base when it comes to growing your Pinterest followers and traffic and the right kind of tools to optimize the overall process.
You can create your Pins on this platform and schedule all the posts for the most active timings so that you get the best out of each Pin that you share.
It also gives you comprehensive analytics around your Pinterest activities, share and traffic so that you can plan your Pinterest marketing accordingly.
Conclusion
With all the chaos of social media marketing tools today, it can be challenging to understand what platform is right for your business. Here I have helped you to narrow down the list of social media marketing platforms that are open source, but still getting the results for different kinds of businesses.